Just a few weeks ago, we were abuzz with Thanksgiving celebrations. But we are now in a different season of festivities. This is the snow-capped period of Christmas!
Christmas has gotten a certain vibe to it. You can definitely feel it right now. From childhood to this very moment, you've had something special for this last month of the year. What were the family traditions you grew up with? Share with us in the comments section.
In this post, we want to discuss two of our favorite holidays: Thanksgiving and Christmas. Although we are past Thanksgiving, we still want to talk about that beautiful period. Because Thanksgiving is something we should never stop doing.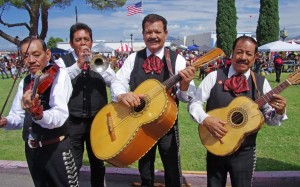 Christmas is a period the year a lot of people look forward to. Some celebrate Christmas for the entire month of December. There will be awesome times to spend with family very soon and we are here to give you an inside tip on how to add spice to your celebration and make your party more memorable.
Thanksgiving
Originally a day for giving thanks and saying prayers for the harvest (and sumptuous food for the incoming year), Thanksgiving has evolved into a grand and popular holiday in North America. It is a day to give thanks and spend time with loved ones and share your culture, food, and appreciation with people from other cultures. How best could you color such a beautiful event? With music, of course. Share the beauty and pleasant sounds of mariachi music with your family and friends. Mariachi Alegre de Tucson has a very brilliant idea on how to add color to your party. Let us show you.
Christmas
We also have one of the most popular holidays in the world. Whether you are a Christian, Catholic or not, the celebration of Christmas affects you in one way or the other. The white snow, the cold winter and Santa Claus' ho-ho-ho laughter around the corners of streets give you that Christmas vibe you remember from your childhood. Christmas is also a time to exchange gifts and show your family and friends how much you appreciate them in your life. Here's a tip to show appreciation differently this Christmas: Host a Christmas party and rock it with Mariachi music! Don't worry, Mariachi Alegre de Tucson is made up of seasoned professional musicians who are more than experienced in playing 1000+ songs. Your Christmas party will not be dull.
The musical career of Mariachi Alegre de Tucson has seen over 40 Christmas and Thanksgiving celebrations. And do you know what? They are giving thanks too to the general public. There's a big opportunity. Mariachi Alegre de Tucson Arizona is offering live music in Tucson this holiday for $225 per hour. Offer is available for holiday parties in Tucson, Arizona. Don't pass this up and hurry now that we are not fully booked. Call (520) 981-3459 and book now. Happy holidays!