It may sound weird to combine a Mexican traditional group of performers with American Independence day, but why not? It's summer, 4th of July is on a Saturday this year, and everyone loves an excuse to party! Tucson, much like the rest of Arizona, has a diverse culture, emphasizing both North and South America, so throwing a Fourth of July party and bringing on a Mariachi group would be a great way to bring your family together and embrace the multi-cultural melting pot this country really is.
You have 6 days before Independence Day, so get to planning, inviting, and cooking! From cookouts to going to large events in the area, celebrate this July 4th with gusto and enjoy a day with your friends and family.
This isn't a Mexican holiday, but it can be celebrated with as much enthusiasm as any other holiday. America has a land of opportunity and choices and the mixture of cultures and ideas, so what better way to show your love of this country, whether you were born here, raised here, or your entire family has been here for generations. You can show your love of the US and how Mexican culture has shaped large portions of this country while embracing multiple sides of your heritage and life.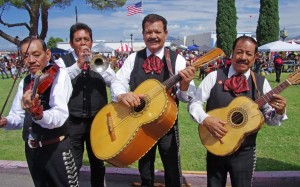 If Independence day isn't your thing, don't worry! There are plenty of other reasons to hire a Mariachi band throughout the year! From baptisms, to birthday parties, to weddings, we cover it all. We're a week into Summer and the fun has just begun, so get to planning parties! Before you know it, Fall will be here and kids will be back in school, the temperatures will start dropping, and there will still be plenty of holidays waiting for a Mariachi to grace with their presence. Quinceañeras happen year round but the options are bountiful in summer! You don't even need a reason to throw a party, really! Make up a reason, celebrate a minor holiday no one else celebrates, or just get a bunch of people together to celebrate the beautiful summer in Tucson.
The next time you throw a party for any reason, contact Mariachi Alegre de Tucson to take your party from fun to fantastic with the upbeat music stylings of our performers. First come, first serve, so make your reservations soon so you don't miss out!
Whatever you do this coming Saturday, stay safe, plan ahead, follow fire and safety orders, and, most importantly, surround yourselves in fun with friends and family. Get out there and play with some sparklers, watch a firework show, and eat some hot dogs, burgers, or authentic Mexican cuisine. It's up to you. You have the freedom to celebrate in just about any way you see fit.