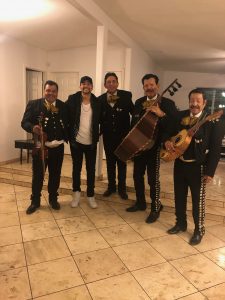 When you hear mariachi music the first thing that comes to your mind is " Mexico". You start to imagine the trip that you had and the experience and it all comes back to you. When we play our music for you we try to play songs that match the event or occasion we are playing at. We want to give you that back home feeling for you and make you feel like you were there again. We take pride in playing our hearts and soul out to make sure you have an extravagant evening. We always come with a plan so that way we never fail to be the best choice. If you love this music then you can appreciate someone who plays it and loves it more!
Mariachi music isn't just a form of music. Mariachi music helps the musicians who are dressed for the occasion Express themselves. And you typically might see these musicians scrolling through the streets with countless instruments to play. In the songs, they typically talk about 5 to 6 things. Two of the more common ones would include death and love. These two things that everyone goes through carrying the most feelings and mariachi bands help express those feelings. This is what makes the mariachi music much more than music. This is when it becomes spiritual and cultural, not an experience that many want to miss.
No one knows where the word mariachi came from or how it even originated but it came around sometime in the 19th century. Through the help and support of people, mariachi music has thrived. And not only that it has reached many suspected listeners and gained their attention. Commonly seen in there outfits that embraces the Mexico feel it has become their style to perform in.
Why Choose us?
Whether it is a special event or just the reunion mariachi such and such has your back! Bringing the festive look and feel to you wherever you are. We have been around since 2010 but have been playing for over 40 years at weddings, masses, memorials, funerals, and even restaurants. We have played all over the United States in big festivals. We are experienced and know just what the mood is for every occasion feel free to give us a call at 520-981-3459