A mariachi band is a musical band that comprises exuberant performers playing the Mexican genre of music in a passionate rhythm. They perform in both small and big events to entertain guests.
They bring liveliness and fun to your events. They will maneuver through your guest arrangement while entertaining them. With a wide variety of popular songs performed with a Mexican flourish, your guests are sure to have a swell time at your party.
Do you need a mariachi band for your special occasion? Here is all the information you need about hiring the services of a mariachi band near you.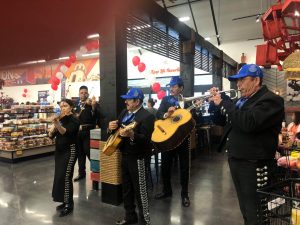 A mariachi band does not limit its performance to the stage. Rather, it interacts with the guests and performs in the crowd. It brings the musical experience closer to the people. The vibrant and interactive performance of a mariachi band means they do not confine themselves to a spot.
As you hire a mariachi band, make enough provision for space. There should be enough room for the band to play around and do what a mariachi band does best. Ensure the venue planner creates a sufficient space between rows and seats to accommodate the performance of the band.
Arrange for the parking of a mariachi band. They will come with their instruments in their vehicle and would need directions on how to park. Letting them drive around endlessly without getting a parking space can affect their productivity as performers during your event.
Hiring a Mariachi Band
For a lot of people, this could be your first time hiring a mariachi band. So, you would have lots of questions about them. One thing you should know is that a mariachi band charges hourly. It does not charge according to the number of songs performed during one performance.
However, sometimes you could hire the band to perform one or two songs for a special audience. However, this is not a package you see every day. It is on rare occasions where the client requests it.
What Songs Do Mariachi Bands Sing?
The songs performed by a mariachi band speak of the rich history and cultural heritage of the Mexican people. It is a soulful rendition of songs across several themes. The songs would border on love, hatred, sorrow, victory, honor, etc.
The mariachi performers use songs laced with poetic lyrics to share stories about the history and heritage of the Mexican people. The songs are a fascinating embodiment of several emotions, including happiness, sadness, humor, regrets, etc.
It is music that resonates with the people while entertaining them. The stories in the song are relatable. People can feel and interact with the theme of the music. It is because it talks about an everyday phenomenon in people's lives.
What Are the Instruments A Mariachi Band Would Play?
Customarily, the instruments a mariachi band plays are the guitarron, acoustic guitar, trumpet, violin, and vihuela. It is these instruments that produce the unique sound associated with a mariachi band performance.
Some bands may throw other instruments into the mix. The essence of this is to add a unique touch to their performance. You could request the flute, harp, and accordion as part of the arrangement for your event.
When Do They Play?
A mariachi band plays at all events. They perform at weddings, parties, festivals, and others. They are the perfect touch every event needs. While the size of the band may differ depending on your needs, the fun is better experienced than imagined.
Are Mariachi Bands Expensive
The cost of hiring a mariachi band would depend on a lot of factors, such as the number of band members you want, the distance or location they have to travel to, the number of hours they will perform.
However, the average cost for having a mariachi band performance is between $350 to $650 an hour. Always ask for the available pricing options. Ask questions for clarity where necessary and determine the best options for your needs.
How to Tip a Mariachi Band
It is a common practice to tip musicians and other performers at your event. These musicians love a good tip. A mariachi band is no different. You have the choice to determine the amount of money you tip a mariachi band.
However, the common practice is to tip each band member 10%-15% of their fees. The tip you give could also depend on how well the band performed. Another factor to consider is the weight of instruments they had to work with to give you a sterling performance.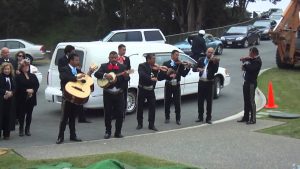 Can the Band Learn a Special Song for You?
A mariachi band has a rich repertoire of music that they would perform and serenade your guests. You can send the band the preferred songs you want for your event. Where the band does not have the song, they can source for it, learn it and perform it to your heart's delight.
However, where the band has to learn and perform a special song, it would attract additional costs. It would bring its Mexican touch to the song and make it an enjoyable experience for all lovers of Mexican music.
A Mariachi Band Can Perform Outside
If you are planning an outdoor event, a mariachi band still fits into the picture. They perform at both indoor and outdoor events. However, they would not expose themselves to harsh weather like snow, rainfall, whirlwind, etc.
A Mariachi Band Near You
Mariachi Alegre is a mariachi band in Tucson, Arizona with over 10 years of experience as a mariachi band performer. We have played in big events and festivals all over the United States. With a great sense of professionalism and punctuality, we bring excellence into the space.
Our clients' needs are our primary concern. We pay attention to them while providing affordable rates, top-notch customer service, and attention to detail. We have a plethora of songs in our repertoire and have an amazing selection of songs for each event.