Mariachi music is a rich and vibrant cultural tradition that is steeped in history and emotion. While many Americans may not be familiar with the intricate melodies and rhythms of Mariachi music, those who have experienced a live performance are often moved to tears by its authenticity and tenderness.
In this article, we'll explore the history and traditions of Mariachi music, as well as share some interesting facts about one of the most popular Mariachi bands in the United States: Mariachi Alegre de Tucson.
Mariachi music has its roots in the state of Jalisco, Mexico, and dates back to the 18th century. The music was originally played by small groups of musicians who performed at local fairs, weddings, and other festive occasions.
Over time, Mariachi music evolved and began incorporating a wider range of instruments, including violins, trumpets, and guitars. Today, Mariachi music is a dynamic and versatile genre that has spread throughout Mexico and the world.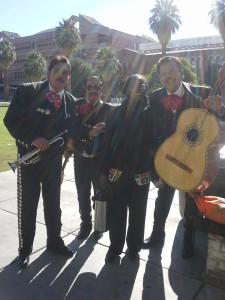 The Importance of Mariachi Music in Mexican Culture
In Mexico, Mariachi music plays an important role in cultural celebrations and traditions. One of the most significant functions of a Mariachi band is to serenade a gentleman's sweetheart, a practice that dates back many years.
Mariachi music is also an essential part of Quinceañera celebrations, which mark a young woman's transition into adulthood. Mariachi Alegre de Tucson is a popular choice for Quinceañera parties, as their extensive repertoire ensures that there is never a shortage of music to keep the celebration going.
UNESCO Recognition of Mariachi Music
Mariachi music is so significant in Mexican culture that it has been recognized by the United Nations' education and cultural organization, UNESCO. In 2011, Mariachi music was added to UNESCO's list of intangible cultural heritage, joining a prestigious list of other important cultural traditions from around the world.
Mariachi Alegre de Tucson: The Band to Watch
Mariachi Alegre de Tucson is one of the most popular Mariachi bands in the United States, and for good reason. Led by George Bejarano, the band has been entertaining audiences in Arizona for over 30 years.
With an extensive repertoire of traditional Mariachi music, as well as popular contemporary songs, Mariachi Alegre de Tucson is the perfect choice for any occasion. Whether you're planning a wedding, a birthday party, or a corporate event, the band will ensure that your guests are entertained and moved by the beauty of Mariachi music.
Mariachi Terminology 101
If you're new to the world of Mariachi music, some of the terminology may be unfamiliar. Here's a quick guide to help you understand some of the most important terms:
Traje de Charro: This refers to the traditional Mariachi suit, which features silver buttons, embroidery, a soft tie, and a wide-brimmed sombrero.
Jarabe Tapatio: Also known as the Mexican Hat Dance, this is the national folk dance of Mexico.
Mariachi Instruments: The typical instruments used in Mariachi music include the violin, guitarrón (a large, deep-bodied bass guitar), guitarra de golpe (guitar with lower pitch than the vihuela), vihuela (guitar with six double strings), guitar, trumpet, and occasionally, a harp.
Book Mariachi Alegre de Tucson for Your Next Event
Whether you're looking to add some authentic Mexican flavor to your next party or wedding, or you simply want to experience the beauty of Mariachi music firsthand, Mariachi Alegre de Tucson is the band to watch
Mariachi Alegre de Tucson has a wide range of songs in their repertoire. From romantic ballads to festive and lively tunes, the band can cater to any event. They can even perform traditional Mexican songs as well as modern hits.
In recent years, Mariachi music has become popular all over the world. It is not uncommon to see Mariachi bands playing in festivals and events in countries such as the United States, Canada, and even in Europe. The music has become an important part of Mexican culture and is a representation of the country's heritage and traditions.
In addition to their musical talent, Mariachi Alegre de Tucson is also known for their impeccable attire. The band wears the traditional Traje de Charro, which consists of a well-fitting suit with silver buttons and embroidery, a soft tie, and a wide-brimmed sombrero. Their stunning outfits add to the overall aesthetic of the performance and make for a memorable experience.
If you're planning an event and want to incorporate Mariachi music, Mariachi Alegre de Tucson is an excellent choice. Their professionalism, talent, and traditional attire will enhance the experience and create an unforgettable memory for you and your guests.
In conclusion, Mariachi music is a cherished part of Mexican culture that has captured the hearts of people all over the world. With its emotional and authentic performances, the music continues to move people and touch their hearts. Mariachi Alegre de Tucson is a prime example of the beauty and talent of Mariachi music and is ready to provide an unforgettable experience for your next event.