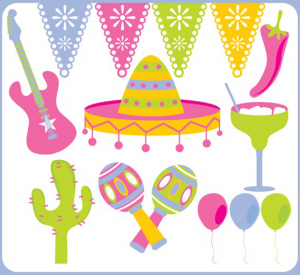 Let's begin by saying that a U.S.Mexican fiesta has to have the following ingredients:
Lots of family and friends
Lots of friends of friends
Plenty of guacamole
Lots of tortillas
Don't forget a big bowl of salsa
How about a make-your-own burrito table?
Margaritas for the adults
Horchata for the kids
Then, you're going to need some activities, like:
Pinata
Dancing
Hot Chile Eating competition
Steal the Sombrero
Mexican Hat Dance
Color is a very important part of a Mexican fiesta. Bright, vivid paper flowers can be in an arrangement on the table or can be draped like a garland over the dancing area. All colors are allowed at a fiesta, there are no rules about color in Mexico.
And, last, but most certainly not least:
Music!
The Mariachi Band will be the absolute best part of the party. When the band starts playing, you can be sure that everyone is going to have a great time. The kids will start moving and dancing as soon as the first note is played. People in the audience will love asking the band to play a favorite tune of theirs. At last count, Mariachi Alegre de Tucson had over 2,000 song in their repertoire. In Mexico, the crowd will judge the group of players based on the number of songs the band knows. If you don't know a high percentage of the songs requested, your band will not get good word-of-mouth compliments. Here's the thing. Not only does Mariachi Alegre know lots of songs, they know songs that other mariachi bands don't know. The members have been playing for many years, so they are familiar with older, less well-known songs, as well as the newer ones that most people have heard before.
The Mariachi alegre de Tucson is always punctual, professional, and polite. They will at all times be dressed appropriately, and at each fiesta they perform, they play like it is their very first performance. And, you know what? These guys can really get a party going.
If you're looking for experience, you have come to the right place.
If you want true mariachi talent, they've got it.
If you want authentic Mexican tunes, they know them.
If you want a few American tunes thrown in, they can do that, too.
If you are looking for a great addition to your next fiesta, Mariachi Alegre de Tucson is the best addition you can find.
Mariachi Alegre has gotten so many good comments from their clients and so many excellent reviews from people who know what they are talking about that you might want to sign them up now for your party, because they get booked quickly this time of year.
Having a wedding?
Want a mariachi band at a special mass?
Looking for a fun way to celebrate a graduation?
What about surprising your mother on Mother's Day?
How about all those folks who will be visiting you this summer? Don't you want to throw a fiesta for them?
Call: George Bejarano
520-981-3459
Mariachi Alegre Tucson Arizona