Thinking of welcoming someone special in a different and exciting way? Have you thought of having a Mariachi Band play for them while they make their entrance? It's going to be a hoot! We had that experience some time ago and in a big way too. We were honored with the opportunity to welcome football teams arriving from chartered air flights at Tucson international airport executive terminal.
After a very tiring and long flight, we were happy to put smiles on the faces of the players. They appreciated the mood-lifter. There's no better way to welcome anyone to Tucson, Arizona. Nobody can say no to Mariachi Music, one of the most enjoyable kinds of music in the world.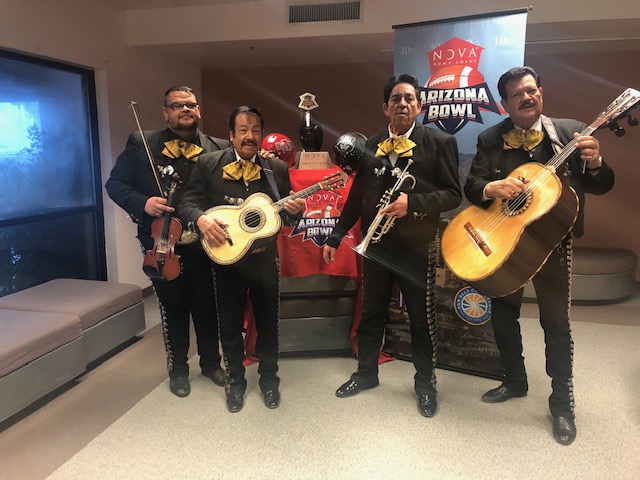 Are you thinking of welcoming someone special like this?
We will work with you by offering:
Affordable rates
Excellent customer service
Follow-ups with emphasis on detail
Now, we are the best band to play songs which not only express your feelings for someone special, or your sense of regard for your guest, we also make it a fun and enjoyable experience for everyone. This is because we are well versed in song selections that bring fun and happiness into any situation.
We are there for your events anytime
If you want your next party to be off the charts, think about adding a mariachi band to the mix. You'll be glad you did. The mariachi band adds a new level of celebrating to the party. In most mariachi bands there are some guitars, a trumpet, some violins, and lots and lots of singing.
Now, we don't want you to think that a mariachi band is shy. We don't want you to think that a mariachi band is timid. Let's just say that when a mariachi band begins to play, you can hear them loud and clear. You not only hear them, you immediately want to get up and start dancing. If you are not the dancing type, you will, at least, want to start tapping your toes. You will feel your insides start to bubble, and it will feel as if your heart is laughing. Maybe you could say that Mariachi singing and playing is contagious. You certainly will not be able to ignore it. In the old days, mariachi bands were made up of only men, and they wore black cotton pants and white cotton shirts, with a kind of farm hat made of straw. Today they wear beautiful cowboy suits with silver buttons and a black hat with a broad, flat brim. Today, there are often women in mariachi bands. We hope that for your next event, celebration, party, festival, or fiesta, you will remember the Mariachi Alegre de Tucson, and allow us to assist you in making your gathering a joyful one. As George Bejarano likes to say, "We know how to get a party going". From that first guitar strum to the last note on the trumpet, your guests will be delighted and invigorated by this wonderful time together! What about retirement parties?
Retirement party
If you or someone you love is retiring this year, hiring a Mariachi band may be a great way to keep the mood light and put smiles on the faces of everyone in attendance. Retirement parties can be some of the best parties, considering we're celebrating years of dedication, and how it's being traded for relaxation, vacations, and hobbies.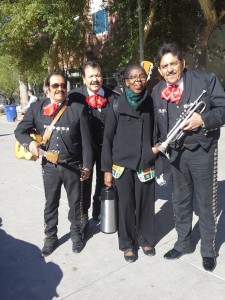 Mariachi Alegre de Tucson
As usual, we also offer our services for church Mass services, Quinceañeras, funerals, weddings, and more– regardless of the time of year, weather, venue, and budget.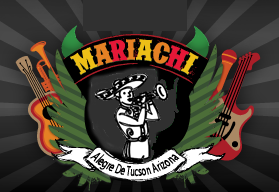 We take pride in our performances and treat each and every one of them with the respect you deserve. Our performers are professional, kind, courteous, and we love our job. We are doing exactly what we want to do. So we come to work every day with a smile and the energy this music style demands. Mexican Independence Day may be over and done with, but that doesn't mean you can't celebrate the beautiful Mexican culture! Spice up any birthday party, office party, baptism, retirement party, quinceañera, or any other party you can think of.
Mariachi Alegre members have played all over the United States. Including some big festivals like the Milwaukee Summerfest, Indianapolis Festival, and internationally in the Scotland Edinburgh Music Festival. George Bejarano formed this group in 2010 from the original Mariachi Internacional America de Gilberto Velez. The members of Mariachi Alegre originally came from this aforementioned group. Mariachi Internacional America operated their venue "El Mariachi Restaurant" located in Tucson from 1985 -2002.
It is at this restaurant where we learned invaluable experience in how to play for distinct clientele. Over the years, 40 years plus, we have played for our own restaurant, weddings, masses, funerals, memorials, quinceaneras 15th debuts, memorials, private and public inaugurations, Mariachi bands rental, Mariachi band for hire, Mariachi band near me, Mariachi Band at my home party, Mariachi bands Tucson, Tucson Mariachi band, Mariachi bands in Tucson AZ, etc.
We can travel within the United States with ease. And can travel outside of the US with advance notice. We are very professional and punctual. Call us today at 520-981-3459 and make your early bookings.
Read more…
Stay tuned to our blog to hear more about our services, Mexican history, traditions, holidays, party ideas, and more. If you have any questions regarding our services, website, pricing, and history, drop us an email. We love to get feedback from you, and any questions we can answer to help you in your performer hiring process will be taken gladly.