We are drawing close to the end of spring and, among other things that means that it's time for many youngsters to graduate either from high school, college or even kindergarten. It has been a long school year and they have all definitely gone through a lot of stress. There were certainly many papers, deadlines and exams involved in their schooling, but they finally made it. They have graduated and their accomplishments need to be celebrated by the whole family.
And how else could you celebrate these amazing accomplishments if not by booking our amazing mariachi band. It is no secret that live music is the heart of any successful party. But live Mexican folk music will definitely guarantee that this celebration will be a hit and that everybody will enjoy it. After all, live mariachi music is great regardless of your age. This is exactly why all types of graduations can be celebrated by booking our band.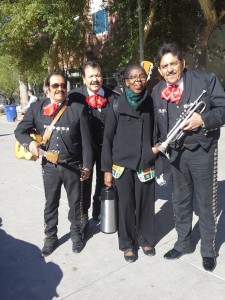 Children definitely love the upbeat mariachi music, so kindergarten graduates will surely appreciate the choice of music. Live Mexican folk music is also ideal for teenagers, young people and for grandparents alike. You can even throw a surprise party for your graduate and surprise him with the best kind of party music as well.
If you have a teenager who has graduated from high school, then you should not miss the occasion to throw him a wonderful party. Even though prom night has just passed, this does not mean that you too can't show just how proud you are of him or her. These types of accomplishments definitely need to be celebrated. All you need is some great music and a crowd willing to have some fun.
Mariachi Alegre de Tucson Arizona has taken part at countless graduation parties and has been a part of many teenagers and young people rite of passage. Let us help you celebrate properly and let us set an amazing mood for your fiesta.
No matter if you are graduating from college (and if you are, then you REALLY need a proper celebration), from high school or if you kid has graduated second grade, you can count on us to be there. These really are important moments in anyone's life and that is exactly why they should never be ignored, but properly acknowledged and celebrated. We guarantee that our presence at any graduation party will turn any gathering into the most amazing fiesta you have ever attended.
More than that, you can enjoy the amazing music played by our mariachi at the most affordable prices in the area. We can guarantee that you will not be able to find a cheaper mariachi band. If you live in the Tucson area our services come at a staggeringly low $225 per hour. We can even play outside of Tucson for $700 per two hours.