Everyone wants to feel loved because it helps you understand that someone else values and cherishes your existence. Sometimes, you can get so busy with work that you unintentionally overlook the importance of sharing quality time with your loved one. This Valentine has created that opportunity to rekindle that initial flame. That is achievable with a valentine's party.
Valentine's parties are filled with lots of love and fun. Improper planning can ruin it. If you haven't planned one before then it's okay to have a little doubt. But we are here to take away the doubt.
You have to be innovative to host an outstanding Valentine's party. A lot of fun things can be done to grace the occasion and leave your guest in the intended mood of feeling loved. In this article, we'll be showing you how to make this imagination a reality. 
Let's get you started!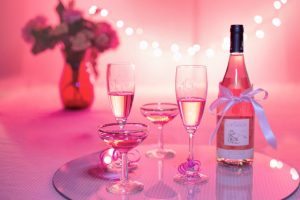 Tips to Plan a Flawless Valentine's Day Party
You need to first know that "flawless" is a possible word. You don't have to make it a carbon copy of the one you attended last year. Although copying a good idea is a great idea, uniqueness is also a beautiful word. So, you too can uniquely have yours with these few tips. 
Case in point:
1. Review the various Valentine's themes
Valentine's day comes with various unique party themes. Take a review of all the themes before making your choice.
There are many Valentine's party themes. 
Let's show you some of them.
Spa day party theme

Valentine's day brunch party theme

Movie night party theme

Dinner party theme

Wine swap party theme

Photo booth party theme

Charcuterie board party theme

Chocolate party theme

And a lot more…
Whatever theme you choose will determine the mood of the party. This should be considered critically and be number one on your planning list. 
2. Don't forget the decorations
Your Valentine's party can be as boring as math class without the right decorations. Beautiful decorations tell your guest to expect beautiful things. It's a big deal in your planning. The right Valentine's decorations have a way of putting your guests in the right mood for the occasion. 
Don't forget that your decoration is dependent on your choice of theme. A Large party requires a lot of work in the decoration. It would be a good time to get friends to help you out with decorations. We advise you to start your decoration early enough so as not to be in a haste later on. Make haste while the sun shines. 
3. Make your guest list
This is essential when you want to plan Valentine's day party. Who are you expecting? Do you want a large party? Is it for couples alone? Or a whole lot of groups are welcomed? These are questions you should ask yourself before making your guest list. Whatever choice you decide on, it's safer if all your guests can be accounted for.
4. Make your budget
Before you plan any party, proper budgeting is paramount. Your budget determines how your Valentine's party would look like. Making your budget won't be much of a hassle if you have an old budget from a previous Valentine's party. You can use it as a guide for the new budget. 
If not, you'll need to make a list of the variety of activities you want at the party. Large guest needs a large budget. Smaller guests can match an average budget. 
Your budget also depends on how luxurious you want your party to be. It's not only about the number of guests. Have your budget ready early enough.
5. Send out your invitation cards
This shouldn't be a hassle. When you've decided on the type of guest you're expecting, the next step is sending out your invitation. There are many ways to do this; you can send a text, call, cards, etc. We'd suggest you use cards. Invitation cards have a way of lighting up a person's mood, making them feel special, and the party special. In the spirit of the celebration, you can make a v-shaped invitation card with a lovely write-up and send it to your guests. 
Be sure to include the set date, time, and team on the card. The theme will guide them on what to wear and bring. The invitation should take the form of a theme. Send this invitation early enough so that your guests won't have already laid out a plan for that day.
6. Consider the food and drinks
What's a party without the right food and drinks to suit the occasion? Your theme will determine the type of food and drink for your occasion. 
Let's help you with a few ideas.
Chocolate party theme
For a chocolate party you can make chocolate bars, hot chocolate, chocolate-dipped pretzels, and anything else you can think of.
Wine swap party theme
The idea here is that people can bring a bottle of their favorite wine to trade. At the end of the party, everyone takes a bottle home. You can get a few bottles of your "house wine" and some Valentine's day snacks making this fun for everyone. 
Movie night party theme
Popcorns and candy are a good combination for movie night parties. You can add a soft drink to go with the candies while watching a romantic movie.
Apart from the chocolate bars, cakes, candies, and fruit drinks, you can prepare a good meal and get some vodka or good wine for the adults.
7. The right choice of music
Music is pleasant to the soul. Choosing the best Valentine's music sets your guests in the intended mood as they walk into the venue. If your party is outdoors, the music shouldn't be too loud so as not to cause a nuisance in the neighborhood. Music that makes one feel loved is best for the occasion.
You can go the extra mile to give your party a unique touch by using a live band in place of recorded music. That can inject more romance into the air. Everyone likes live bands. Hiring a live band will reduce the stress of finding the right music to play for your party. Let the experts handle it for you while you use your time for another important point on your list.
Mexican music is well recommended for Valentine's parties. The Mexicans know how best to communicate love with music. Here at Mariachi Alegre De Tucson, we have been playing Valentine's music in Tucson Arizona for years. We have customer-friendly representatives who would love to listen to you as you tell us exactly how and what you want for your party. You can also check our customer review sessions to see that we are worth your pay. Contact us. Let's make your party an unforgettable one!