Mariachi Alegre de Tucson is making you a special offer this season. We have been playing for over 40 years and within those years are very happy and pleased clients and happy memories for all attendees of the events we played at. We want to give back to the people we care about: you. Here is an opportunity you shouldn't pass up. This is an opportunity to spice up your Christmas celebrations at home, work or school with Mariachi music from one of the foremost bands in Arizona.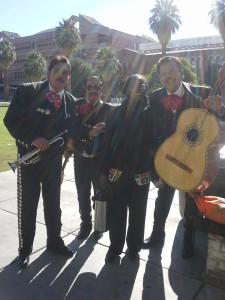 Over the years hundreds of people have chosen us and they have had reason to smile. The testimonials on this website can attest to that. Here is what some clients said after we performed at their events.
When Sharon Garlund needed a Mariachi band to perform at her anniversary party, she booked us and this was her remark:
"The alegre de tucson az mariachi group was the big hit of our anniversary party: their choice of music was perfect, they interacted with each table grouping with special requests, they are a very talented group and I would recommend them heartily to others looking for a special mariachi touch to their gathering! Their performance totally lived up to our expectations!!!"
At Jessica Anaya's birthday party:
"That was amazing! Thank you so much!!!! 🙂 Muchas Gracias!!"
And after we played at the Fiesta farewell for Brian's summer visit to Guadalajara Mexico, he had this to say:
"Thank you, Jorge. Our guests told us that your music was a highlight of our party. ¡Viva Mariachi Alegre!"
A happy customer, Carlos Argudo, gave us this review:
"Gracias Jorge Uds estuvieron espectaculares. Todos los asistentes disfrutar"
Translation: Thank you, Jorge. You guys were amazing. All attendees enjoyed.
When we did a birthday gig for Adrian in Tucson, Arizona, this was how it went:
"Todos seguimos hablando aqui del gran ambiente que pusieoron y lo buen musicos que son en el Mariachi Alegre. Muchas Gracias!"
Translation: "We all continue talking about the great atmosphere that [pusieoron] and the good musicians that are in the Alegre Mariachi. Thank you!"
Oh, wedding ceremonies. What a beauty for two people to fall in love and agree to remain together forever. Even heaven rejoices! And we were there to make heaven and earth remember it forever:
"We hired them for cocktail hour at our wedding at Loews Ventana Resort. Many guests were from the Boston area and loved the music. The main color for the wedding was purple, so I asked George if he could have his band wear purple ties, he was happy to oblige, thank you Mariachi Alegre de Tucson!!!!! They were very friendly, arrived on time, [and] were professional and very talented. We highly recommend them, and everyone loved their performance!!!!"
Four exclamation marks can't begin to express how pleased she was to have us put in our best effort to make her wedding something to remember for everyone.
At this point, I don't know what will hold you back from taking the opportunity we are offering to spice up your next celebration. So, Arizona, we are available for holiday parties at $225hr!
Start booking now before we're completely booked.