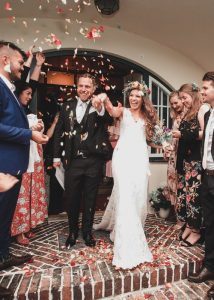 Looking to add a unique and exciting touch to your big day? Consider hiring a mariachi band! Mariachi music is a vibrant and festive genre that originated in Mexico and has since spread throughout Latin America. It's perfect for adding energy and excitement to any celebration, especially weddings.
In this blog, we'll take you through the exciting world of mariachi bands, explore the benefits of including one in your wedding, and give you tips for planning the perfect mariachi wedding ceremony. We'll also suggest some popular songs that are bound to get your guests dancing and explain how a mariachi band can add a festive atmosphere to your wedding.
Plus, we'll share our insider knowledge on how to hire the best mariachi band for your special day. Get ready to spice up your wedding with the sounds of a lively and talented mariachi band!
Mariachi bands are like a Mexican culture explosion that can light up any event, injecting it with a ton of energy and excitement. When they start playing with those lively rhythms and passionate vibes, you can bet they'll have the whole crowd hooked. It's not just the music either; it's the way they dress, with those iconic sombreros and charro suits, that adds a whole other layer of awesomeness to the whole spectacle.
What really makes mariachi bands stand out is how they can fit into any occasion. Sure, we often think of them at weddings, but these musical maestros can rock birthdays, anniversaries, and cultural bashes too. They're like the ultimate chameleons, blending seamlessly into different settings and connecting with all sorts of people. And did I mention their history? These folks have been at it since the 19th century, and they're practically woven into the fabric of Mexican heritage.
And speaking of experiencing mariachi magic, just hop onto YouTube! There's a treasure trove of videos showcasing the sheer talent and infectious energy of mariachi bands. Thanks to the wonders of the internet, people from every corner of the globe can savor the enchanting performances of these musical virtuosos. So, whether you're in the midst of wedding planning or organizing a special event, consider adding a dash of mariachi excitement to create a truly unforgettable occasion.
Benefits of Including a Mariachi Band in Your Wedding
Having a mariachi band at your wedding is a choice that can add a whole bunch of awesome to your big day. Here's why it's a cool idea:
It's unique and stands out, giving your wedding that one-of-a-kind vibe.

You'll have a party atmosphere that'll get your guests in the mood to celebrate big time.

The lively beats and passionate performances will stick in everyone's memory, making your day extra special.

It's a personal touch that makes your wedding feel unique, not just another run-of-the-mill affair.

The energy from the musicians adds a real sense of intimacy and connection to the whole event.

Plus, with mariachi music, there's always a reason to hit the dance floor, so no dull moments!

And the best part? They can tailor their performance to match your wedding's theme and style, making it super personalized and, of course, super special.
Tips for Planning the Perfect Mariachi Wedding Ceremony
When it comes to organizing your mariachi-infused wedding ceremony, a few key elements can make all the difference in creating a seamless and memorable experience for you and your guests. Here are some invaluable tips to help you craft the perfect mariachi wedding ceremony:
Strategic Musical Moments
Start by strategically choosing when to weave mariachi music into your ceremony. Think about incorporating it during the processional or recessional to infuse the proceedings with a vibrant and celebratory vibe. Collaborate closely with your chosen mariachi band to select songs that hold personal significance. This adds an extra layer of emotional depth to your ceremony.
Consider the acoustics of your chosen venue. You'll want the rich melodies of mariachi music to reach the ears of all your guests. If you're in a spacious or open-air setting, have a detailed discussion with your mariachi ensemble about sound equipment or adjustments to ensure top-notch audio quality.
Effective communication is key when working with a mariachi band. Have an open conversation about any specific requests or unique requirements you might have. Whether it's a beloved song you want them to perform or the seamless incorporation of cultural traditions, clear dialogue will help them prepare and deliver a performance tailored to your exact preferences.
Lastly, make sure you communicate the schedule and logistical details of the ceremony to the mariachi band. Providing them with a well-planned timeline ensures they know when to shine and enhance the most important moments of your wedding ceremony.
We've curated a list of fantastic song suggestions that will undoubtedly set the perfect tone for your mariachi band wedding. Let's explore these musical gems that will infuse your special day with joy and energy.
1. "El Son de la Negra"
This classic mariachi song is an absolute crowd-pleaser. Its catchy melody and spirited rhythm have the power to get everyone on their feet, dancing and clapping along. It's a surefire way to create an unforgettable atmosphere at your wedding.
2. "Cielito Lindo"
If you're seeking a beloved Mexican folk song frequently performed by mariachi bands, "Cielito Lindo" is a delightful choice. This iconic tune is cherished worldwide for its upbeat tempo and joyful lyrics, sure to bring smiles to your guests' faces and infuse a festive ambiance into your celebration.
3. "Amor Eterno"
For the enchanting first dance at your mariachi wedding, consider the beautiful ballad "Amor Eterno." This heartfelt song beautifully encapsulates the essence of everlasting love, making it the perfect choice for a romantic and emotional moment between you and your partner. Let the mariachi band serenade you as you share this special dance together.
4. "Volver, Volver"
If you desire a song that resonates with the emotions of love and longing, "Volver, Volver" is a popular mariachi classic that fits the bill. Its poignant lyrics and soul-stirring melodies evoke powerful feelings, creating a deeply meaningful atmosphere at your wedding.
5. "La Bamba"
Let's not forget the infectious energy of "La Bamba"! This fun and upbeat mariachi song will have everyone singing and dancing, making it the perfect choice to kick off the party and maintain high spirits throughout the night. Get ready to shake those hips and revel in the joy with your guests!
How Can a Mariachi Band Add a Festive Atmosphere to Your Wedding?
It's all about the joyful tunes and catchy beats that create a festive vibe. The musicians' colorful outfits add to the party atmosphere. When they start playing, your guests won't be able to resist dancing.
How to Hire a Mariachi Band for Your Wedding
When it comes to planning your dream wedding, why not infuse it with the lively sounds of a mariachi band? Adding a touch of culture and festivity can truly elevate the experience for you and your guests. Here's a friendly guide to help you pick the ideal mariachi band for your special day:
Research and Recommendations
Start by diving into the world of local mariachi bands.

Seek reviews and recommendations from friends and family who've danced to the mariachi tunes at their weddings.

These insights can be golden, offering a glimpse into the band's performance quality, professionalism, and client satisfaction.
Price and Availability
Reach out to several mariachi bands to get quotes and check their availability on your big day.

Remember to stay within your budget, but also use this opportunity to understand industry pricing standards and negotiate effectively.
Repertoire and Personalization
Ask about the mariachi band's song repertoire and their willingness to play special requests.

If certain songs hold sentimental value or resonate with your love story, ensure the band can seamlessly weave them into their performance.

A versatile mariachi ensemble should effortlessly switch between traditional and contemporary tunes, tailoring the musical experience to your preferences.
Logistics and Details
Have a detailed conversation with your chosen mariachi band about the logistics of their performance.

Discuss the duration of their presence and any specific setup requirements.

This planning ensures a smooth flow during your wedding ceremony and reception, allowing the band to transition seamlessly between sets and locations.
Seal the Deal with a Contract
To cement your arrangement with the selected mariachi band, a contract is essential.

This contract should spell out the agreed-upon terms, including the date, time, venue, total cost, and payment schedule.

Signing a contract brings peace of mind to both parties and safeguards you from potential hiccups down the road.
A mariachi band can add a touch of vibrancy and excitement to your wedding day. From the moment your guests show up to that final dance, their lively tunes and vibrant outfits will make your day absolutely unforgettable.
Whether you're all about traditional Mexican melodies or want to throw in some modern hits, these mariachi pros can whip up a playlist that's totally your style. Planning a mariachi-infused wedding? Well, you'll want everything to go smoothly, right? That's where our handy tips come in.
Ready to lock in a mariachi band for your big day? Just drop us a line today. We're all ears, and we can chat about what you're looking for to make your special day even more epic.