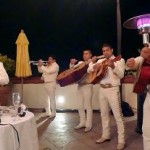 Summer is the time for weddings, and, since summer is here, and you are planning a wedding, it's time to finalize your arrangements and lock in the reservation dates for the elements that will make up your fabulous day.  By now, most brides have decided on their dresses and only have to verify that they have made their appointments for their final fitting. For you guys, who don't have a clue about this, we will explain.  The bride wants to make sure that her dress is perfect for the day of the wedding.  If all the planning hustle and bustle has taken a few pounds off, she will need to have the dress "taken in" a little before walking down the aisle.  If she has gained a couple of pounds because of all the parties she has been thrown, she'll have some adjustments made as well.
Then she will have to assure herself that the cake, flowers, tuxedos, party tent, catering , and music are all in place. Wait, music, what is she going to do about music at the reception?  After some thought, she will remember how much fun she had at her cousin's wedding, and that it was all because they had a mariachi band for the reception. She thinks that may be just the ticket for her wedding day.
Maybe you want to know why the mariachi band was such a success at her cousin's affair?  Well, here are five fun reasons:
1.  Sometimes a band that you think will be perfect for a wedding reception really isn't.  Often couples opt for a D.J., which, of course, can be nice.  However, when it comes time for the bride and father to dance, most D.J.'s don't have the right song to play, especially if you meet only one time with the D.J., on the day of the wedding.
2.  There are types of bands that are so loud they violate the venue-neighborhood noise ordinances.  Mariachi is nice and loud, but it is not, in any way, electronic, and the sound will not carry as far as a wired band.  Besides, if the beautiful tones of the mariachi do drift over into a neighbor's yard, they will probably thank you, not report you!
3.  If you let your mom talk you in to her choice of a band, it will probably be a "big band" type of group.  This kind of music can be pretty, and fits into the formality of some weddings nicely.  The only problem is that you will be missing out on the "fun" factor.  When a mariachi band arrives, the "joint starts jumpin".
4.  With some bands, it is possible they will not take special requests from the audience.  That's not in the party spirit, now is it?  Once your guests get wound up, they are going to want to hear songs they have loved in the past.  Mariachi Alegre de Tucson is one mariachi band that can play almost any mariachi song that is requested.  Their repertoire includes thousands of songs.  That's right, we said thousands.
5.  In some cases, a band that you book will play the songs you have asked them to play, and that's  it.  This is not the case with Mariachi Alegre de Tucson.  Mariachi Alegre is in the business of "feeling the mood".  They know when a love song is appropriate, they know when to play a lively dance tune, and they know when it's time for the whole family to get on the dance floor and dance as a group.  How, you might ask?  They've been doing this a long time, that's how.
Call  George Bejarano at  (520) 981-3459 today!