Your wedding can be super fun this summer without stretching your budget.
Here's how:
Excellent planning, skill, and wisdom go into the organization of an amazing wedding celebration. A wedding that is enjoyed not just by the bride and groom but by every attendee is something to be achieved by a good wedding planner. This means that you need to put some effort into throwing this incredibly expensive party. Because unsatisfied or bored guests also mean an unsatisfied and panicking bride. That is the last thing that anybody would want.
Things to Consider to Entertain Your Wedding Audience
So, to have everyone relaxed and having a great time at this amazing celebration, here are a few things that you might want to consider. First of all, no matter what type of guests you are dealing with, you should know that keeping them entertained is probably what everyone is expecting, including the bride and groom. So no matter if we are talking about upper-class aristocrats or your regular John and Jane, the guests definitely need to have a great time, or else…
How to keep everyone entertained
So in order to keep the guests entertained, there are a few tricks that every wedding planner should try. First of all, everything that includes the bride and groom is an excellent idea. You could organize their first dance as husband and wife and if that is not enough to keep everyone entertained, you could also have the main characters in this sto9ry dance among themselves. For instance, you could organize a dance between the groom and his mother or his mother-in-law, between the bride and her father or her father-in-law, and so on. We guarantee that everyone will think that these moments are a brilliant idea.
And food…
Apart from all the dancing, you could also impress the guests at a wedding with the food. There is no doubt that everyone can appreciate good food, especially if it is served at a wedding. So you might as well try to go a bit out of the ordinary and try to make a great impression with the food. In order to do that, you might want to steer clear of the classic chicken or beef choice and have guests pick something a bit more exotic. They will surely appreciate it!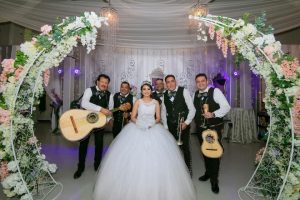 Book the right band!
One other way to keep the guests entertained is by booking the right band. We all know that a band can either break or make a wedding. That is exactly why you need to have the best of the best on your side in order to help you have an amazing celebration. And speaking of the best of the best, you might want to hurry up and give Mariachi Alegre de Tucson Arizona a call right away. There are a lot of weddings happening this summer and we might end up having such a busy schedule that we will not be able to attend your wedding as well.
If you choose a mariachi band for your music, get your guests dancing the Mexican hat dance.
The Mexican Hat Dance
The Mexican Hat Dance is well known throughout the world as the national folk song of Mexico. Most of the time when people are asked to name a song related to Mexico, they mention this song. Along with other songs like "La Cucaracha".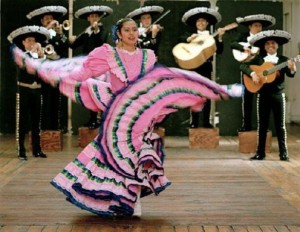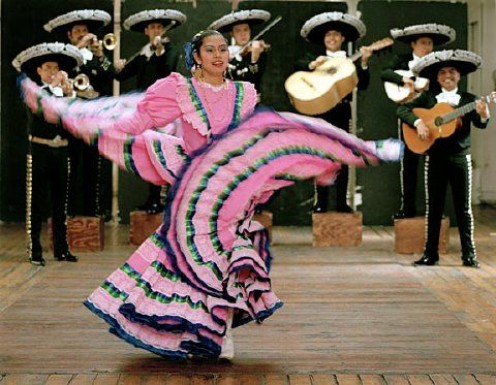 Here's what you need to know about the dance
The popularity of this song and dance came from Anna Pavlova from Russia. This ballerina visited Mexico in 1919 and was so enthralled and passionate about the culture and costumes that she began performing the dance now performed throughout Mexico in the on pointe style while wearing a China Poblana outfit.
Mexican culture embraced this with honor and placed it in permanent importance in the culture. The dance was created during the revolution at the beginning of the 1900s to encourage national unity. The Jarabe style of dance in which the Mexican Hat Dance thrives is a combination of different styles of dance and song.
Costumes for the Mexican Folk dance
Costumes for men and women were not created simultaneously. The "standard" outfits worn for this style of song and dance hail from the 1800's servant outfit (China Poblana). It was worn by the women and the charro suit worn by men during the 1930 emergence of Mariachi. Different combinations have been utilized throughout the history of the dance, but today it features a mixture of time periods, much like the style of music and dance this wonderful experience utilizes.
This style does not need to be performed by a set number of people. A solo performer is just as welcome to dance in this way as a large group at a party, however, the styles differ.
Pair or group: Performers stand with their feet together and their arms by the sides. The partners move in circles around one another while performing various arm movements. Upon completion of the routine "olé" is exclaimed. Even when done in a group, pairing off occurs with little variance between one couple or several people dancing at once. Young and old alike can learn and love this style.
Solo: A hat is thrown on the floor, hence the name, (and unlike the group or pair dancing) and the dancer jumps around the hat while only touching the rim slightly with one foot. Hands are held in fists and placed at the side of the body near the waist. Steps are performed in one direction and then the other, switching the foot which touched the hat previously. Much like the group/partner performance, the dancer will exclaim "olé" and a clap.
Contact Mariachi Alegre De Tucson
Contact Mariachi Alegre De Tucson for your next big party. And when we perform the Mexican Hat Dance, all your guests will get excited to perform and watch this traditionally wonderfully fun dance. Who knows? Maybe some of our Mariachi members will grab you by the hand and teach you the dance personally. Embracing the Mexican culture and pride is only one way to make a party one to remember!