When it comes to commemorating the life of a loved one through a funeral service, music can hold a special place in creating a meaningful and heartfelt tribute. Among the musical choices, a mariachi band can bring a touch of cultural richness and emotional resonance to the occasion. However, selecting the right mariachi band for a funeral tribute requires careful consideration. Here's a comprehensive guide to help you make the right choice:
1. Understanding the role of music in funerals
Funeral music is more than just a background element—it plays a significant role in evoking emotions, celebrating a life well-lived, and providing comfort to grieving family and friends. The right mariachi band can convey a sense of unity and create a soothing atmosphere, enhancing the overall experience.
2. The Art of emotion and sensitivity
A funeral is an event where emotions run deep, and music serves as a conduit for these feelings. Seek out a mariachi band that understands the nuances of performing in such a sensitive context. They should have the ability to capture the emotions of the moment and infuse them into their music.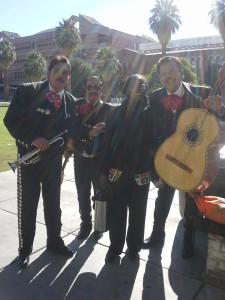 3. Versatility in repertoire
While mariachi music holds cultural significance, a versatile mariachi band can go beyond the traditional and offer a diverse repertoire. Look for a band that can perform a mix of classic mariachi songs as well as other pieces that align with the spirit of the occasion.
4. Personalization adds a personal touch
Every life is unique, and the music chosen for the funeral should reflect that uniqueness. A mariachi band that is open to personalization—learning and performing songs that hold special meaning to the departed or their family—can add a deeply personal touch to the tribute.
5. Professionalism in conduct
Funeral services require a high level of professionalism from every participant, including the mariachi band. Professional attire, punctuality, and respectful interaction with attendees are essential attributes to look for in a mariachi band.
6. Experience matters
Experience in performing at funeral services is a valuable asset for a mariachi band. Such experience equips them with the understanding of the delicate balance between honoring the departed and providing comfort to those in mourning.
7. Reviews and recommendations
Research the band's reputation through online reviews and seek recommendations from friends, family, or funeral directors. Positive feedback can provide valuable insights into the band's ability to deliver a meaningful musical tribute.
8. Effective communication
Clear communication is key to ensuring that the mariachi band understands your expectations and preferences. They should be open to discussing song choices, timings, and any other details that contribute to the overall experience.
9. Suitable set-up and equipment
Technical aspects matter, too. Ensure that the mariachi band can adapt their set-up and equipment to the funeral venue, ensuring clear and respectful sound quality throughout the performance.
10. Reflecting the dignity of the occasion
The mariachi band's performance should reflect the dignity of the occasion. Their understanding of the significance of each song and their ability to convey the intended emotions are crucial.
11. Consultation and connection
Before making a final decision, consider scheduling a consultation with the mariachi band. This allows you to discuss your vision, share your preferences, and assess whether their style aligns with the tone of the funeral.
Choosing the Right Mariachi Band for Your Funeral: Factors to Consider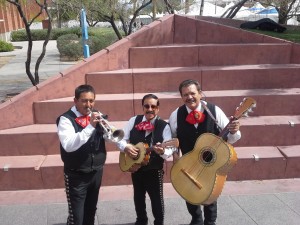 Selecting the perfect mariachi band for a funeral is a thoughtful process that involves considering various factors. Here's a guide to help you make an informed decision that honors your loved one's memory:
1. Budget Matters
Before you begin your search, determine a budget for the mariachi band. While music is a valuable aspect of a funeral, it's essential to find a balance that respects your financial constraints. Look for bands that offer packages or customizable options that fit within your budget.
2. Style of Music
Mariachi music comes in different styles, from traditional to contemporary. Consider the style that best reflects your loved one's personality and preferences. If they had a favorite mariachi song or style, finding a band that can perform it can add a special touch to the tribute.
3. Availability and Scheduling
Funerals often have specific dates and times, so it's crucial to find a mariachi band that can accommodate your schedule. Reach out to bands early in the planning process to check their availability. Being proactive can help you secure the right band for your chosen date.
4. Experience in Funeral Performances
An experienced mariachi band that has performed at funerals understands the solemnity and emotional nuances of the occasion. They know how to adapt their music to the atmosphere of a funeral service, delivering a performance that's respectful and comforting.
5. Repertoire Flexibility
While mariachi music has its own repertoire, a band that can adapt their playlist to your preferences is a valuable asset. If there are specific songs or genres you'd like to include, discuss them with the band to ensure they can accommodate your requests.
Why Mariachi Alegre De Tucson Stands Out
In the world of mariachi bands, Mariachi Alegre De Tucson shines as a standout choice for funeral tributes. Their exceptional professionalism, versatility, and commitment to creating a meaningful experience make them a fitting option to honor your loved one's memory.
A Comprehensive Tribute Experience
Mariachi Alegre De Tucson understands the profound impact that music can have during times of loss. Their approach to funeral tributes goes beyond performing songs—they craft a comprehensive musical experience that resonates with attendees on a deep level.
Cultural Richness and Emotional Resonance
Mariachi music has a unique ability to intertwine cultural richness with emotional resonance. Mariachi Alegre De Tucson embodies this blend, infusing each note with the spirit of remembrance, celebration, and comfort.
An Ode to a Loved One's Memory
The right mariachi band can turn a funeral service into a heartfelt ode to a loved one's memory. Mariachi Alegre De Tucson brings not only their musical expertise but also their genuine compassion and understanding to every tribute they perform.
If you're seeking a mariachi band that can infuse cultural significance, emotional depth, and professionalism into your loved one's funeral service, Mariachi Alegre De Tucson is the perfect choice. To learn more about our services and how we can craft a meaningful tribute.
A Musical Farewell
In the presence of grief, music has the power to transcend words and offer solace. Mariachi Alegre De Tucson understands this power and harnesses it to create a musical farewell that honors, comforts, and celebrates the life that was lived.