Your wedding day is a once-in-a-lifetime event, a celebration of love and unity that deserves a soundtrack as beautiful and timeless as the love you share. Enter the mariachi band – a unique and vibrant choice that can infuse your wedding with an authentic and festive atmosphere. But with so many options out there, how do you choose the right mariachi band for your special day? Fear not, we're here to guide you through the process with creativity, insight, and a dash of personality.
Why Mariachi for Your Wedding?
Before we dive into the nitty-gritty of choosing the perfect mariachi band, let's discuss why mariachi is an excellent choice for your wedding. Mariachi music carries a rich cultural heritage and is known for its emotional depth and lively energy. It can evoke feelings of joy, nostalgia, and celebration, creating a truly unique and memorable experience for you and your guests. Whether you're having an intimate garden wedding or a grand ballroom affair, the versatile melodies of mariachi can adapt to any setting.
Steps to Finding Your Ideal Mariachi Band
1. Start with research
The journey begins with research. Seek out mariachi bands in your area and explore their websites and social media profiles. Look for professional presentation, a diverse repertoire, and positive reviews from past clients. Pay attention to their experience in performing at weddings – this ensures they understand the unique dynamics of such events.
2. Seek recommendations
Ask friends, family, or your wedding planner for recommendations. Personal referrals can provide valuable insights into the band's performance, professionalism, and ability to create a captivating atmosphere.
3. Evaluate their repertoire
A great mariachi band should have a versatile repertoire that includes both traditional and contemporary songs. This ensures that they can tailor their playlist to your preferences and the atmosphere you want to create. A mix of romantic ballads and upbeat tunes will keep the celebration flowing smoothly.
4. Consider your venue
The venue plays a significant role in your band selection. If you're having an outdoor wedding, ensure the band can provide the necessary sound equipment to accommodate the space. If your wedding is in a smaller venue, make sure the band can adjust their volume accordingly.
5. Arrange auditions
Auditions are crucial to assessing the band's musicality and performance style. Listen to them live or watch their videos online to get a sense of their stage presence, vocal quality, and instrumental prowess.
6. Discuss your vision
Communicate your vision with the band. Share your preferences for specific songs, genres, and the overall mood you want to create. A band that is willing to customize their performance to align with your vision is a keeper.
7. Professionalism matters
Professionalism is non-negotiable. A reputable mariachi band should be punctual, well-dressed, and capable of smoothly interacting with your guests. Their experience in handling wedding events should be evident in their behavior.
8. Pricing and packages
Discuss pricing and available packages upfront. A transparent breakdown of costs will help you avoid any surprises later on. Keep in mind that quality performances are an investment in creating lasting memories.
9. Reviews and testimonials
Reviews and testimonials from past clients can provide insights into the band's performance and customer satisfaction. If possible, reach out to former clients to get firsthand feedback about their experience.
Choosing the Right Mariachi Band for Your Dream Wedding
Your wedding day is a canvas of your love story, and the mariachi band you choose is the brush that adds vibrant strokes of melody and emotion to your celebration. To ensure you find the perfect mariachi band that aligns with your vision, budget, and style, let's dive into the factors you need to consider: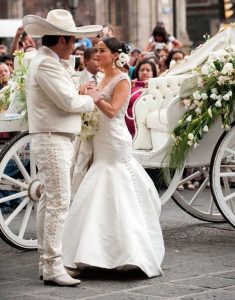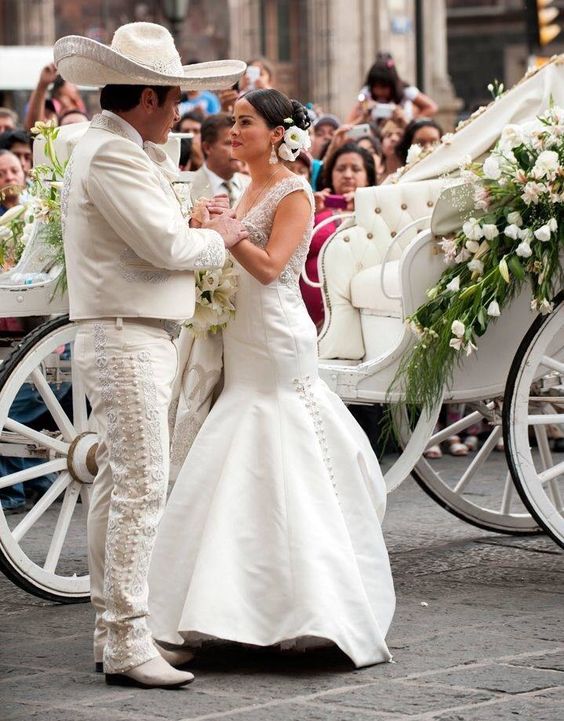 1. Budget
Budget plays a significant role in your decision-making process. Determine how much you're willing to allocate for the mariachi band. Remember that experienced and reputable bands may charge higher fees due to their skill and professionalism. While it's essential to stick to your budget, keep in mind that investing in quality music can elevate your wedding experience.
2. Musical style
Consider the musical style you envision for your wedding. Mariachi music can range from traditional and romantic ballads to upbeat and festive tunes. If you have a specific theme or atmosphere in mind, ensure the band's repertoire aligns with it. A band that can adapt to different styles will curate a playlist that resonates with your preferences.
3. Repertoire
Review the band's repertoire to ensure they can play the songs that are meaningful to you. A versatile mariachi band should be able to perform both classic and contemporary songs, accommodating various age groups and musical tastes among your guests.
4. Availability
Check the availability of the mariachi band on your wedding date. Popular bands may be booked months in advance, so it's essential to reach out as early as possible. If the band is available, make sure they can commit to the entire duration of your wedding festivities.
5. Reviews and testimonials
Research the band's reputation by reading reviews and testimonials from previous clients. This can give you insight into their professionalism, performance quality, and ability to create a captivating atmosphere. If possible, connect with past clients to get a firsthand account of their experience.
6. Personalization
Discuss your vision and preferences with the mariachi band. A band that is open to customization and collaboration can craft a musical experience that reflects your unique love story. Share your ideas for specific songs, special moments, and the overall ambiance you want to create.
7. Professionalism and interaction
Professionalism is crucial when choosing a mariachi band. They should arrive on time, dressed appropriately, and engage with your guests in a friendly manner. The ability to interact with your guests can enhance the overall experience and create a warm and inviting atmosphere.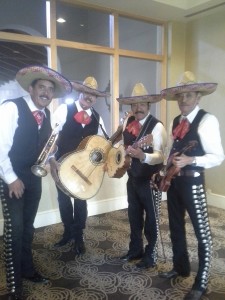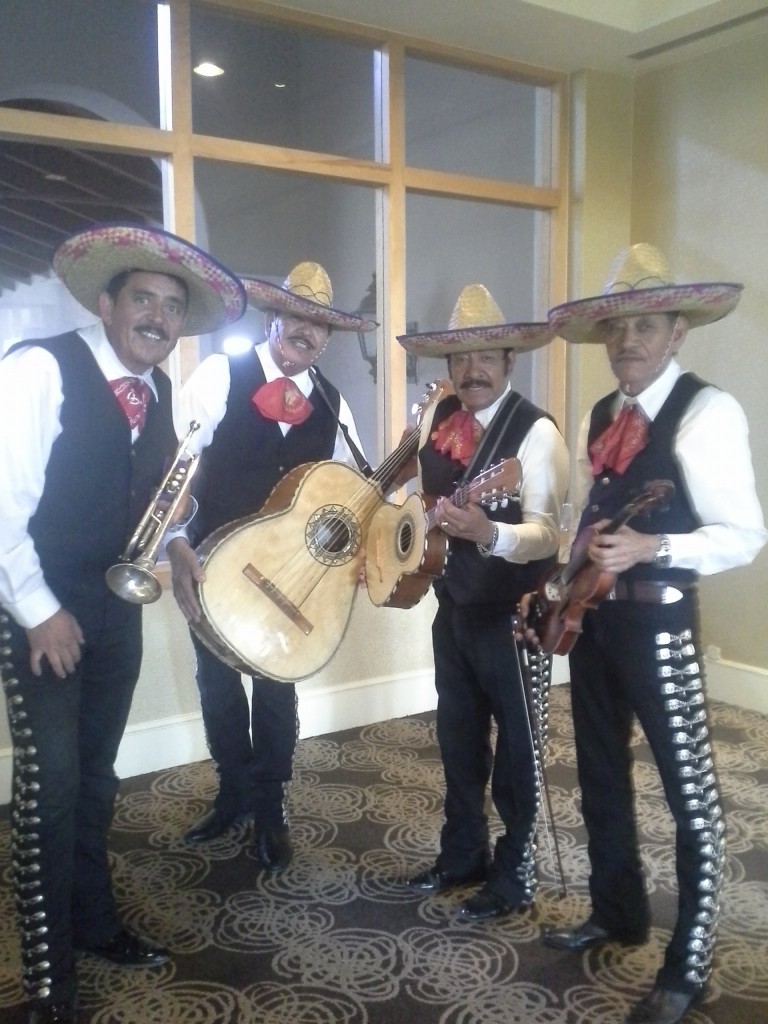 Mariachi Alegre De Tucson: Your Ideal Wedding Companion
When it comes to choosing the perfect mariachi band for your wedding, Mariachi Alegre De Tucson takes the spotlight. Their captivating performances, exceptional musicianship, and deep understanding of weddings make them a standout choice. With a diverse repertoire that spans the traditional and the modern, they can craft a musical journey that resonates with your unique style.
Imagine walking down the aisle to the heartfelt melodies of Mariachi Alegre De Tucson or having your first dance as a married couple accompanied by their enchanting tunes. Their commitment to professionalism, customization, and creating a joyous atmosphere will turn your wedding into a memorable celebration.
Your Dream Wedding with Mariachi Alegre De Tucson
As you embark on the journey to plan your dream wedding, consider the magic that Mariachi Alegre De Tucson can bring. They don't just play music; they craft experiences that weave through the fabric of your special day. Ready to infuse your wedding with the vibrant sounds of mariachi? Contact us to learn more about their services, explore their music, and secure your spot on their calendar.
Your wedding day is a testament to your love story – make it unforgettable with the legendary mariachi melodies of Mariachi Alegre De Tucson. Get in touch today and embark on a musical journey that will echo in your hearts for years to come.
Related Posts