Thanksgiving is just a few short days away. Are you throwing a party this weekend? If not, you should rethink that decision and celebrate the four-day-weekend with the best party of the year. Thanksgiving is a day for Americans to get together and remember the stories of the "first" Thanksgiving, mostly ignoring much of the actual history. Smart Americans take this as a day to be thankful for everything we have (shelter, food, family, friends, employment, etc) and share the appreciation with those around you.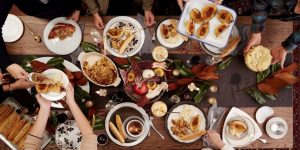 Why American Thanksgiving?
You may be wondering why we'd talk about AMERICAN Thanksgiving since we're a Mariachi band. The answer is simple: Because we can. Well, it's less simple than that. The real reason is that our Mexican heritage and tradition is part of who we are, but we're all still Americans. Besides, the world needs more excuses to thank those around us and be grateful for what we have that people in other countries might not.
So, consider our services to your parties this weekend. Have a left-over buffet for your neighbors and hire a Mariachi band to get everyone excited—dance off some of those extra calories from the endless days of turkey leftovers. Combine the beautiful Mexican traditions with the great American food and holidays. Let's start uniting cultures one at a time.
Entertainment for Thanksgiving
If you're not looking for entertainment this Thanksgiving weekend, do keep us in mind for the upcoming Christmas parties. If you don't celebrate Christmas, call us for a Hanukah, Kwanza, or Solstice event. We all need more excuses to party, so this holiday season why not make up a holiday or just celebrate the togetherness the Fall and Winter evokes. Start planning your Christmas parties now and reserve our wonderful services for the most fun holiday parties on your block.
If you're wanting to throw an office or family Christmas party, act soon. If you start with your Christmas parties in early December you should have high attendance numbers due to the lower number of competing parties. Or you can set the date now and let the word out you have the best Mariachi group around performing so everyone will prioritize your party.
Ideas for Mexico-inspired delicacies this Thanksgiving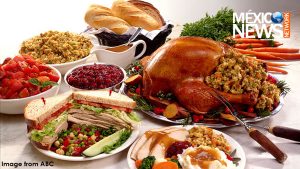 For some ideas as to what food to serve for your upcoming Mexico-inspired holiday parties, check out recipes here and elsewhere on the internet. Keep it fun, keep it festive, and keep everyone entertained with Mariachi Alegre de Tucson. Any party can be improved with the right band: and we are always that right band. Ask us about our festive music selections or suggest songs from your childhood or that you've come across. We'll always do our best to keep you coming back.
At Mariachi Alegre de Tucson, we all wish you a happy Thanksgiving, from the bottom of our hearts. Stay safe.