Weddings are amazing celebrations. Excellent planning skill and wisdom  goes into the organization of an amazing wedding celebration. ​A wedding that is enjoyed not just by the bride and groom but by every attendee is something to be achieved by a good wedding planner. This means that you need to put some effort into throwing this incredibly expensive party, because unsatisfied or bored guests also mean unsatisfied and panicked bride and that is the last thing that anybody would want.
So in order to have everyone relaxed and having a great time at this amazing celebration, here are a few things that you might want to consider. First of all, no matter what type of guests you are dealing with, you should know that keeping them entertained is probably what everyone is expecting, including the bride and groom. So no matter if we are talking about upper class aristocrats or your regular John and Jane, the guests definitely need to have a great time, or else…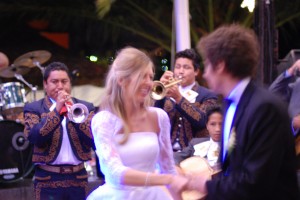 So in order to keep the guests entertained, there are a few tricks that every wedding planner should try. First of all, everything that includes the bride and groom is an excellent idea. You could organize their first dance as husband and wife and if that is not enough to keep everyone entertained, you could also have the main characters in this sto9ry dance among themselves. Fo0r instance, you could organize a dance between the groom and his mother or his mother in law, between the bride and her father or her father in law and so on. We guarantee that everyone will think that these moments are a brilliant idea.
Apart from all the dancing, you could also impress the guests at a wedding with the food. There is no doubt that everyone can appreciate good food, especially if it is served at a wedding. So you might as well try to go a bit out of the ordinary and try to make a great impression with the food. In order to do that, you might want to steer clear of the classic chicken or beef choice and have guests pick something a bit more exotic. They will surely appreciate it!
One other way to keep the guests entertained is by booking the right band. We all know that a band can either break or make a wedding. That is exactly why you need to have the best of the best on your side in order to help you have an amazing celebration. And speaking of the best of the best, you might want to hurry up and give Mariachi Alegre de Tucson Arizona a call right away. There are a lot of weddings happening this summer and we might end up having such a busy schedule that we will not be able to attend your wedding as well.