The feeling your guests get at your event when you hire the band is similar to the feeling a football fan gets when viewing a live football match of their supported team right at the stadium. Hiring the right live band for your event provides your guests with the goosebumps-filled vibe and/or the right emotion at every bit of the event. It can paint your event with just the color it needs to keep it alive and memorable. 
On the other hand, making the wrong choice or getting things wrong when hiring a live band can be horribly obvious. And can expose your event to the "something is not right" feeling. That's because music has this peculiar way of becoming a noise when wrongly sung, or sung at the wrong time. 
There are things that will guide you through the journey of the right choice. And that is what we will be exposing you to in the next five minutes. 
Let's dive ahead!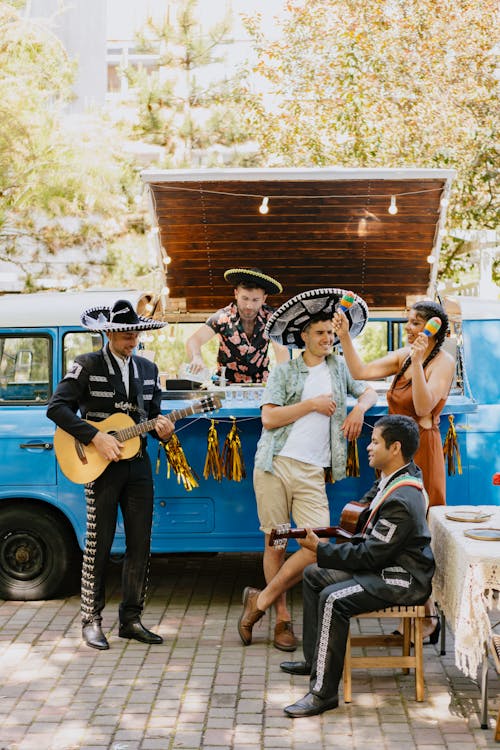 Types of Live Bands for Your Event
The primary factor that your choice of band should be determined is the type of event you are planning for. Not all bands fit all events. Because each band is an expert in creating its specific energy and atmosphere. And you have the specific atmosphere you want to create for your guests.
We will be listing the different musical bands here in Tucson.
1. Function and party bands
It's party time and you want to raise the roof with loud but organized music? Function and party bands are bands that are made for that purpose. They can light up your event and set up the right atmosphere. Your event needs to let even the stiff-joint ones move their body without their consent. 
Fans of musicians like Beyonce, Taylor Swift, Ed Sheeran, Bruno Mars, and related musicians will pick a function and party band as their choice of band to hire. The band is usually made up of a guitarist and/or keyboard player, lead singer, drummer, and bass player. Bigger bands usually have separate backing singers and a saxophone player. 
2. Cover bands 
Function and party bands and the cover bands are similar. They both can function in the same events — parties, weddings, etc. They both sing songs recorded by someone else. And their names are sometimes interchanged for each other. 
This is the thin line of separation: cover bands mimic the original as accurately as possible. Someone passing by and picking out their music might mistake it for the original. They can also re-make the original and give it a new taste. The re-made song is known as a cover song. 
3. Rock band
Want electric, head-banging, loud music that will keep your guests agile and energetic? Then you should be in search of rock music. The band usually consists of lead guitar, rhythm guitar, bass guitar, and drums. The lead singer sings with or without instruments. 
Although it's mostly teenagers and young people that enjoy the music the most, with many people considering it noisy, there are a lot of people that find the music appealing. So we advise that before hiring a rock band, you should know the music taste of your guests. So, they won't all go back with headaches from a "noisy band". 
4. Acoustic band 
Acoustic bands are smaller bands when compared to other function bands. They can easily move around and set up without much hassle. That's why they are a popular choice for both events in smaller venues or events that require the guests to change locations. 
The simplest lineup for an acoustic band is an acoustic guitarist and a singer. Although the full band may also require wind instruments like flute, harps, and French Horn.
The Mariachi band is a fit for so many events. It is a good pick for weddings, birthdays, corporate events, and funerals. Their music style is a mariachi style. The band is usually well-equipped with a lot of mariachi songs. As they are known to be able to create stories that can resonate with everyone listening. Songs about life, love, family, people, and a lot more topics. 
All you just have to do is to tell them the collection of songs you want. And they deliver. 
The mariachi band uses instruments such as trumpets, violins, trumpets, and acoustic bass guitars. 
Key Takeaway
The misconception that many people have when trying to hire a live band is that they need to hire the best band. But nope! What you need is the right band. That just fits your events. 
Making the wrong choice will tempt your guests into stretching their necks looking for where that "noise" is coming from. And trust me, bad music can single-handedly ruin that beautiful event. So, your guests should rather think to themselves that you have good taste in music. They just have to sit back and relax.
Here at Mariachi Alegre De Tucson Arizona, we understand that you need the best service for your event. And that is what we have been striving hard to achieve for more than 40 years. And operating for so long here in Tucson, Arizona, we have gained the mastery that we need to satisfy you and make your event a memorable one. 
One of the reasons people shy away from live bands is that they believe it's an expensive option. But with us, you wouldn't have to be scared of that. You can afford our service. We give great service, we are always punctual, and we respond quickly. You can call us at (520) 981-3459, and get the details. Everything you need to know to set things in motion.
You can also check out our customers' reviews on our page so you can see how we prioritize our customers' satisfaction. We make sure every experience for our clients is a memorable one; one worth recalling and treasuring with all your heart. That's what wakes us up every morning. We can't wait to hear from you, so we can give you the same experience. Reach out to us.