Are you looking for an exciting and fun way to celebrate a special occasion or simply want to throw a party with a Mexican flair? Look no further! Organizing a Mexican fiesta in the United States can be a thrilling experience for you and your guests, but it requires proper planning and attention to detail. In this article, we will guide you on how to organize a memorable Mexican fiesta that your guests will talk about for months.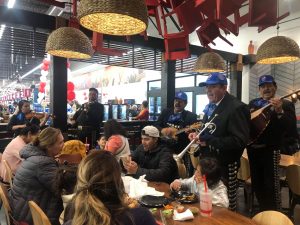 Ingredients for a Successful Mexican Fiesta
First things first, you need to ensure that your fiesta has the following ingredients:
Lots of family and friends: The more, the merrier! Invite everyone you know and encourage them to bring their loved ones along.
Plenty of guacamole and tortillas: What's a Mexican fiesta without guacamole and tortillas? Ensure that you have enough for everyone to enjoy.
A big bowl of salsa: Spice things up with a big bowl of salsa. You can make your own or buy it from a local store.
Make-your-own burrito table: Let your guests get creative with a make-your-own burrito table. Have all the ingredients laid out, and let them create their own delicious concoctions.
Margaritas for the adults: Margaritas are a must-have for any Mexican fiesta. You can make them from scratch or buy premixed margarita mix.
Horchata for the kids: For the kids and non-drinkers, serve up some horchata, a sweet, creamy, and refreshing drink made from rice, milk, and cinnamon.
Fun Activities to Keep Your Guests Entertained
Your guests will want more than just food and drinks. You need to have fun activities to keep them entertained. Here are some ideas:
Pinata: No Mexican fiesta is complete without a pinata. Fill it with candies, chocolates, and other treats, and watch your guests have a blast trying to break it open.
Dancing: Play some lively music, and let your guests show off their dance moves.
Hot Chile Eating competition: For the daring guests, organize a hot chile eating competition.
Steal the Sombrero: This game is a Mexican twist on the classic game of hot potato. Play some music, and let your guests pass around a sombrero. When the music stops, whoever is holding the sombrero is out.
Mexican Hat Dance: Teach your guests the Mexican Hat Dance, and let them show off their moves.
Colorful Decorations
Mexican fiestas are known for their vibrant colors. Here are some decoration ideas:
Paper flowers: Bright, vivid paper flowers can add a festive touch to your fiesta. You can make them yourself or buy them from a local store.
Garlands: Drape colorful garlands over the dancing area to create a fun and lively atmosphere.
No Mexican fiesta is complete without a Mariachi band. The Mariachi Alegre de Tucson is a talented and professional Mariachi band that can take your fiesta to the next level. They have an extensive repertoire of over 2,000 songs, including older and less well-known songs, and can also play American tunes.
Mariachi Alegre is punctual, professional, and dressed appropriately for every occasion. Their performances are always top-notch, and they have received rave reviews from their clients. Don't wait until the last minute to book them because they get booked quickly, especially during peak season.