Is your wedding soon? Let's make it a memorable one. It's a very significant day for you. You deserve the very best on that day. Everyone wants their weddings to be the best. Every moment must count. Let's make this happen. 
There's perfect music for each moment at your wedding. You set the right tempo of your wedding ceremony with the right music. There are useful tips you should know to make your wedding magical. Music is your magic!
In this article, I would show you that as you plan every section of your wedding, you can also plan your wedding music, all by yourself. 
Let's roll. 
1. Start the Planning Early
Well, since you are here, you are probably getting ready for your wedding. The truth is that your wedding will put a lot of pressure on you. And you wouldn't want it to get flopped. To prevent that, you need to get your plans spelled out early. This would prevent you from working under further pressure. 
In spelling out your plans, include music plans. Doing this would avoid you from overlooking some useful details that would have made your wedding more memorable. Not just that, it would also give you enough time to properly observe the other tips you are about to dive in. 
2. Talk about your taste
It's all about mutual satisfaction. You should feel satisfied with the musical collections played alongside your partner. So, know his taste. Get his style. And know what you want.
Also, don't try to please your partner alone and forget about yourself. You also deserve to be satisfied. You can decide to get creative by using instrumental versions of your favorite songs. Play around with it and have fun. It's your day.
3. Plan the day
Have the plan of the day written out. Define each section by knowing what you want to feel at every moment (happiness, satisfaction, calmness, excitement, romance, and a lot more). Avoid negative vibes by excluding the wrong songs. Music fills wedding ceremonies with emotions. Make yours filled with the right once. 
Your song selection for each moment also determines the emotional feel of that moment. This tip is important. Remember, you have to make it memorable. 
4. DJ or DIY?
Here's the thing: Although both would give different vibes, they would both work. And are okay. Or else you are already saying no to one because you prefer the other, probably because your friend used it, and it ended up being beautiful. That's still all right. 
But hold on and take this warm advice from me: You should create a list of songs you would love to play at your wedding ceremony. DJ or DIY, creating a playlist is an excellent step toward achieving emotional resonance with the music.
5. Stick to staying happy
Hey, it's going to be all about you and your partner. And not your guest. Your guests are there to celebrate with you. So, odds are that they would be happy if you are. Don't fall under the pressure of making everyone happy with your music. For example, if a trending song is not to your taste, why include it in your list?
You should savor every moment as much as you can. And feel the thrills and chills your beautiful music has to offer. As far as your budget can cover, make sure you reach to enjoy yourself. You can spice things further by using a live band. This can give you a mouth-watering experience.
Live Band: Does it Worth the Investment?
Having to choose between a live band or recorded music for your wedding can be a tough decision sometimes. But let's help you cross the huge river. Let's go through the factors you would have to consider in making the best decision for your wedding. 
The decision to use live music is personal. But it all boils down to your budget. But outside the headache of the budget, there are other factors involved in it. 
1. You are not a music person
It's okay not to be a music person. But that doesn't discredit the awesomeness of music. Music still remains magical. Apart from the emotional rush, it can bring on that day, it can also synchronize your emotions with that of your partner.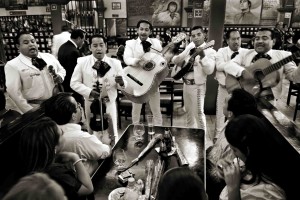 With all these awesome attributes, you wouldn't want to have a music flop. As a solution, why not involve the live band? You don't need to tell them much. Just communicate with them, and they will deliver professionally. 
2. Memorable wedding ceremony
What you see sticks better than what you hear. Right? Skilled live bands will place a stamp on the memory of your guest. It would be something you would always be proud of. Since it's something you and your friends don't get to see every day. It tends to stick even better. 
3. Creative flexibility
When the live band is involved, your music is far from stereotyped. Experts know just how to give you the satisfaction you need and also cheer your guest. If you want something astonishing without your taste being compromised, then you should reach out to us. We can achieve this with our mariachi music.
You can get your guests excited with a live mariachi band. Feel the art of mariachi music in your comfort. Mariachi music is a small musical ensemble composed of a variety of mostly stringed instruments. They are one of the best choices to set up a romantic chill. It also has this magical way of setting up a festive vibe. Reach out to the Mariachi Alegre de Tucson. 
Mariachi Alegre de Tucson is a local group in Tucson, Arizona. We are made up of 5-6 musicians who play Mariachi music. For over 40 years, we have taught many mariachi musicians in Tucson how to play mariachi music. We would be that fun element to your wedding. And a memorable one at that. It's absolutely a win for you. 
We have the experience. And we are affordable. Reach out to us.