No need to mention that graduation is a very special and remarkable event in a young person's life. Same goes for quinceañeras. What great way to mark these times and show them just how much we love and proud we are of them than to throw the most amazing party in Arizona. All in their honor.
Quinceañera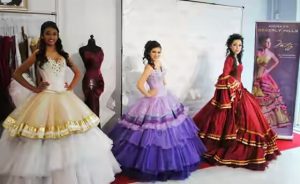 When a young girl turns 15 it's time to show the world how beautiful this new woman is! There's a lot to know and the internet is full of theme ideas, history, traditions, instructions and more. We can help with some of that! Our services are great for the mass ceremony as well as the big party the girls will look forward to! Mix it up and have some pre-recorded music part of the time and a Mariachi for the big moments and to encourage the older crowd to dance and have fun while reminding the younger attendees where they came from and how beautiful this traditional music can be! Don't let this art style die out, show them how mariachi performances go with any celebration and keep your little quince girl interested in her heritage and encourage her friends to think twice before scoffing at a mariachi group.
Graduations
Kindergarten, Elementary School, Middle School, High School, and all walks of College or University graduations are a big deal for these kids! We're not saying you should throw a party at every graduation level, but some of the big ones call for a fiesta! Middle School can be a big deal for these kids so show them how proud you are by throwing a party for their family and friends—get the whole neighborhood involved—and encourage them to keep working hard.
High school graduations are a great time to bring in even more family and friends and throw a party at a nice venue or stick to a home party or something in a park. Throw in a Mariachi group and get everyone laughing and dancing the night away to celebrate the achievements of your graduates! One last big party before they start worrying about colleges, jobs, and their adult lives to come!
From Associates degrees to Ph.D's and Masters, college/university graduation is a big deal! We can't let those achievements go unnoticed! Throw your graduate a party for friends, spouses, children, and other relatives to bring everyone together before they dive head-first into the work force with their new degrees and skills! Wish them luck and show them how to have a good time before their life becomes their jobs or family. Reminisce about past graduations, staying up late to study, and stressing about finals and celebrate the new chapter that is about to begin!
Mariachi Alegre de Tucson is always ready to make the party for your quince girl or your coming-up-in-the-world graduate and everyone else involved better and special. We'll be honored to dispense a great dose of the Mexican tradition in these events.