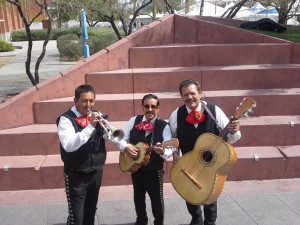 Summer is nearly over and the fall is here! September is right around the corner and the wedding season is upon us. So don't be shy and ask for a September mariachi wedding before time runs and were fully booked. There are many mariachi bands out there but If you're in need of a professional band in Tucson, then you should consider Mariachi Alegre De Tucson Arizona for your September Mariachi Wedding.
A Mexican theme "Boda" is the true blend between fiesta and romance. In Mexican tradition, it's not uncommon to bring mariachis to a lover's window to gain her affection and it's not uncommon to see a mariachi theme wedding. It goes beyond culture, as live Mexican Folk Music will always beat out average speakers. I know what you're thinking live music is so cliché, but the truth is most people opt out for regular surround sound. There is affordable September mariachi wedding out there for your budget.
Mariachi band of Tucson can play all request. This makes mariachi music perfect for weddings as it can be emotionally romantic or high energy. This leaves you covered with a romantic bride and groom dance, while at the same time your guest won't stop dancing. What better way to ensure your guest enjoy themselves and you'll have a memorable September mariachi wedding? Then limitless options and fun with live music.
What better time to have a wedding then in the fall and there's no better month than September? Not everyone can say they've had a September mariachi wedding. The finishing touch would be live music, probably to everyone's surprise. When you hire an aged professional musician for your September mariachi wedding. You can rest assured that you will be satisfied with their service. While we all know that mariachi is from Mexico and it's one country that knows how to do weddings.
If you plan on having a more religious ceremony, that's no problem at all. Mariachi bands in Tucson AZ work with local churches and are accustomed to performing in traditional environments. Make no mistake you are dealing with seasoned professionals, who know what they're doing. While they can make the adjustments needed to suit your needs. On an added note, Mexico is catholic country by tradition. So, that should answer any questions in regards to religious ceremonies.
If you truly want a memorable "Boda" then look no further than Mariachi Alegre De Tucson Arizona. Whether a reception or ceremony a September mariachi wedding is definitely more interesting. If you're not necessarily into a Mexican theme wedding, you can contract them for the after party. Live music is a unique and original concept. Having a wedding in the right month of the year and a fiesta band. It counts as those little things that make all the difference when it comes to your September Mariachi Wedding.
September Mariachi Wedding
Tucson Mariachi band service is just a call away tap here to reach us – (520) 981-3459