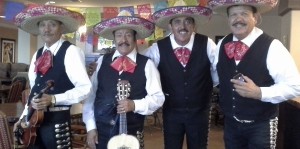 As fall goes into full swing, you may want to consider a class reunion during "Homecoming" time! As far as family reunions go, some may opt for a late October gathering. Probably on the same week as Halloween. Today we'll talk about ways you can make your reunion of any kind a little more fun. Regardless of your background, ancestry, or skills, this post will definitely help.
More Fun for Reunions and Homecoming this 2017
Homecoming & Reunion Parties with Mariachi Alegre de Tucson
If you're planning a reunion of any kind, be it of college friends, in honor of a high school or college graduation, or family members, don't forget to call and schedule yourself a Mariachi band. You will have a party no one will forget! As a reminder, the Class of 2007 may want to consider a 10 year anniversary! Families who don't get together every year may want to consider celebrations every 5 or 10 years. So it's easy numbers to remember! 2017 is the perfect time to start a new tradition! Get back in touch with your friends or family and let's get to party planning! Mariachi Alegre de Tucson would love to be a part of your family for an afternoon. And we will treat you as we would our own family members.