The time is almost here.  It used to be that June weddings were all the rage, but now, all the warm weather months are fair game since it is so much easier to have a wedding, if you can have guests inside and outside for the ceremony and the reception.  So, let us tell you why a mariachi band is a great addition to a wedding.  And, by the way, those of you who are having July or August weddings still have time to sign us up for your special occasion.
1.Let's Reveal a Secret
You may not have known this, but we are going to let you in on our little secret.  Mariachi bands can be very romantic if you make sure that you have set up the venue and the timing to best showcase the band.  If you will, please picture the mariachi members dressed in their macho fitted suits with silver buttons gleaming.
Candles are lit, the light in the room is low, and, from out of nowhere comes the band playing the loveliest, most romantic, most heart-tugging love song in their repertoire. As they begin to play, the bride and groom meet in the middle of the dance floor and begin to waltz while gazing into each other's eyes.  Every lady in the audience will tear up and every camera will flash as guests take a picture of this beautiful, heart-warming moment.
#2 No Bored Guests
Do you ever have that wedding nightmare in which all your guests are sitting at their respective tables at the reception and are beginning to look bored? We know! What could be worse than bored guests?  The only way to stop this recurring nightmare is to make sure that you have reserved your mariachi band for the reception.
Sometimes the band leader can tell you about mariachi dance groups in the area.  If they have any contacts, a dancer or two is a great way to get folks up on the dance floor.  Even without a dancer to prime the pump, once the mariachi music starts, it is the rare person who can resist the happy, enthusiastic sound of the music played by a mariachi band.  It's an instant party starter.
#3 Mariachi can be a great Conversation starter
If you have a lot of guests who don't know each other, mariachi can be one of the best conversation starters ever.  The gaiety and happiness of the music and the friendly and out-going members of the band make people want to get to know each other.  Mariachi "breaks the ice".
#4 Our prices are relatively lower
Since a mariachi band is small and does not need any sort of amplification, the price for their services often comes in lower than the price for other entertainment groups.
#5 Engage the Children with Mariachi Music
Weddings are fun for everyone, including kids.  You would be surprised at how quickly the children will hop onto the dance floor and join in the dancing.  It's instinctive.  It's organic.  They can't help themselves.  They will be the life of the party.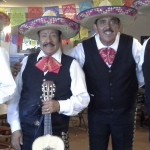 #6 Request any song and we've got you
Mariachi bands, especially Mariachi Alegre de Tucson, can play just about any traditional and contemporary song that you throw at them.
#7 We can move around your dinner tables while playing music
If you are having a seated dinner, the mariachi can stroll among the tables and serenade your guests, and you, as you all enjoy your meal together.
#8 Even when you're taking pictures…
A great idea is to have the mariachi band play while you are taking your church pictures.  Letting them warm up the guests and pass the time while you are being photographed seems like a win-win, don't you think?  Margaritas included, of course.
#9 Basically, fun!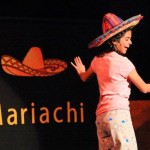 A mariachi band is fun.  It's a no-brainer.  A mariachi band is just fun!
#10 You have the best Mariachi Band near you
You have one of the best Mariachi Bands in the country right here in your very own town.  They are Mariachi Alegre de Tucson, and they are experienced, responsible, talented, great showmen, authentic, and easy to contact.
Call (520) 981-3459 Today!