If you are among the Christmas enthusiasts who are already decorating the Christmas trees, buying Christmas presents, and singing Christmas carols, then you should consider the Mexican Christmas Season as your new best friend.
Mexico is known for family values and partying for anything and everything. Christmas is no exception. The Christmas season in Mexico lasts nearly a month, spanning from December 12 until January 6. The season combines indigenous practices, Spanish customs, and newer Mexican inventions from the colonial era and the Germanic and United States influences. Much like in America, marketing towards the Christmas season begins in November.
Poinsettias and Christmas Decorations
In December, people begin decorating! Poinsettias are used for the festive look. These flowers are not seen much outside of South America and the Southwestern US. To natives, they symbolized new life fallen warriors received and said warriors return to the earth as hummingbirds or butterflies to drink the nectar of the flower. It is also found in more modern Mexican legends that the plant was originally a weed that changed into a beautiful flower in order for a child to give the now beautiful plant to the baby Jesus. The bright green leaves and the vibrant red flower makes this flower jump out and further cement the "red-and-green" theme found all over the world for Christmas colors.
Christmas Tree Decorations
The "traditional" Christmas tree worldwide stems from mainly Germanic and American customs. They were imported to Mexico for the expatriate community. But have gathered popularity with the rest of Mexico (and the world) over time. The presence of large chain stores allows for more families to obtain these symbols of Christmas. Despite Christmas trees not being native to Mexico or present for much longer than a century, the citizens embrace this tradition along with many, many others found around the world. The heavy Christian and Catholic influence upon Mexico lead to the use of the well-known Nativity scene found in many Mexican homes and larger decoration displays. The religious influences also explain the last posada on Christmas Eve followed by the Mass of the Rooster late at night. This is followed by a midnight feast with various traditional Mexican dishes including bacalao, revoltijo de romerita, and more. Christmas day is used for families to recuperate, relax, and eat leftovers.
For a more traditional Christmas, do this…
If you want your Christmas holiday to be as traditional as possible, hire a Mariachi band for the mass and/or the Midnight feast. Keep everyone awake and alert with so much dancing everyone might sleep through Christmas. Also, build up that appetite to eat the leftovers before the sun sets on Christmas night. If you aren't looking for a fully traditional Christmas, bring in the feeling of Mexico and home. Hire our performers for your family party before or after Christmas. It's never too early (or too late) to start celebrating this wonderful holiday. You have until January 6th to be in the Christmas spirit of Mexico! Bring in the poinsettias, get to cooking for the midnight feast, and find your best outfit for Midnight Mass ready! Christmas is right around the corner. Book us now or you'll regret it. Above all, have a very merry Christmas celebration this year.
And You Can Have a Mariachi Band to Make Your Christmas Party Amazing
It takes one or two simple additions to give your party an extra memorable spice. Sometimes, these are tips that save you cost, time, and energy.
Pinterest is full of Mariachi-inspired décor and party ideas for your next quinceañera, wedding, family gathering, or birthday!
From tequila-themed decorations to Dia de Los Muertos cookies and Mexican Fiesta table settings!
Quinceañera
Include some bright colors (like those found on the Mexican flag or a classic bright red) in the way of a sash or some jewelry to the quince girl's outfit. Try paper flowers hanging from the ceiling or banners made from bright colored paper as seen here.
Make every guest feel special with name-place cards with some cacti, succulent plants, or flowers. Dress your new woman in her beautiful white dress and pair it with bright flowers and decorations to make her stand out to symbolize the importance of this day!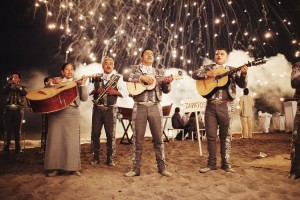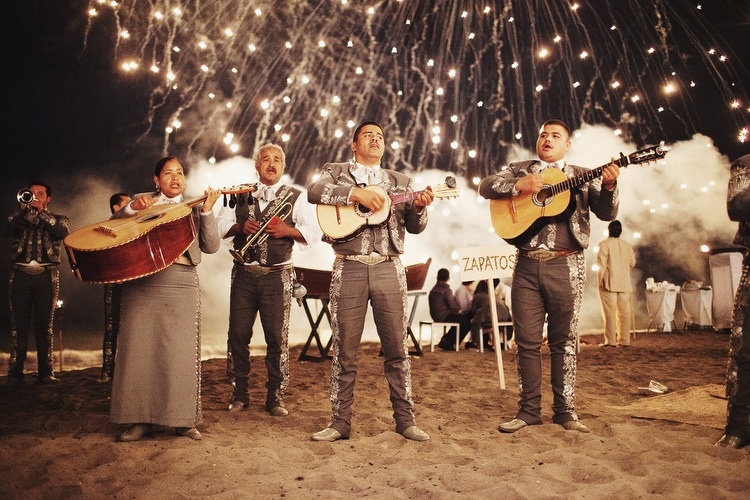 Weddings
Pinterest is flooded with Mexican-themed wedding ideas, many of which can be altered to fit just about any other situation. Throw in some flags, native plants of Mexico, sombreros, traditional blankets, and tequila wedding favors for a little pop of festive fiestas! Maybe give everyone a set of small maracas to play along with the Mariachi band you've hired—or just to entertain the kids during the reception.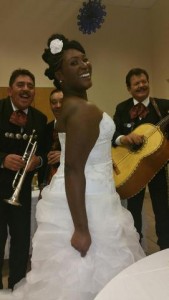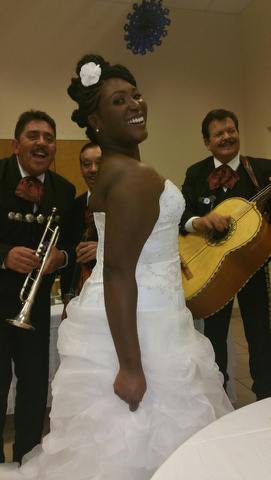 Birthdays: Send out invitations with the colors of Mexico, some sugar skulls, or Mexican greetings, and when the guests arrive to see the bright colors associated with Mexican culture (as seen in blankets and celebratory decorations at festivals) and a Mariachi band they'll be so excited to take pictures, dance, and spend the night with the lucky birthday guy/girl.
Try a piñata for all ages! Candy for the little ones, coupons or tequila airplane bottles for the older crowd, or just have fun with a piñata filled with flowers or confetti just for fun.
For any party, a Mariachi group can inspire everyone to dance and have fun but it also gives you an excuse to bring out the sombreros, rent a Charro outfit for the little one, and have margaritas or horchata. Inspire a new generation to carry on the Mariachi traditions of great music and entertainment!
Enjoy Your Next Mariachi Party
Keep it subtle, traditional, or out-there stereotypical. You can stick to more traditional garb for Mexican weddings or Quinceañeras or you can just add a little Mariachi flare with your décor or entertainment. You can also go all out and go for what everyone thinks of when they hear about a Mexican celebration.
Leave all of the food and entertainment to your friendly local businesses. Schedule Mariachi Alegre de Tucson for your entertainment needs and check out some local Mexican eateries that cater! You can also make the food and decorations on your own or enlist help from family or friends. You can't go wrong if you put love and care into your party preparation.
Skip the pre-recorded music and hire professional musicians to bring the party alive!