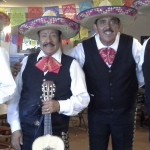 This Sunday is Father's Day.  A day to celebrate our fathers, living and those who have gone on before us.  The US version of Father's Day is a happy celebration, and we Mexican-Americans have taken this day of celebrating our fathers into our hearts , as well.  There is a Dia del Padre in Mexico, but it is a little different.
For one thing, in Mexico, Father's Day days has a more festival feel than it does here.
Also, the day is a time to honor fathers, but it includes honoring "father figures" who have had an impact on your life, like uncles, big brothers, grandfathers, stepfathers, and others.
Like in the US, fathers are given greeting cards and ties, but in Mexico City, every Father's Day, there is a race called "Carrera Dia del Padre 21K Bosque de Tlalpan".  It is a time for father and son to bond by spending the day outside and running a race together.
Of course, just like in the US , Father's Day includes lots of good food. On the morning of the special day, an enormous meal is prepared made up of dad's favorite food. And always, as with all celebrations worldwide, there is dessert.  In Mexico that would include Mexican chocolates,or  pan dulce, a sweet pastry with several wonderful toppings.
Family is very important to the people of Mexico, so most festival days are spent with the family.  The time spent together on Dia del Padre is used to honor the important men in each other's lives.
The Mexican people have the best celebrations imaginable, and Father's Day is no exception.  Make your celebration a good one, too.  Here are some traditional things to do for Dad in the US:
Sunday Brunch – Gather family and friends for bellinis, or champagne and orange juice and all the elegant "breakfast'y foods you can think of.  It can be a relaxing time to catch up with each other's lives, relax, and give dad a day off.
Take a bike ride together as a family.  You'll be getting some exercise and spending time together that is peaceful and fun.
Go on a picnic, maybe even in your own backyard.  Throw a blanket on the ground, have lemonade and sandwiches, and recline after you eat, for a short nap.
Get old mementos and picture albums out of the closet.  Sit together and take a walk down memory lane.  Get out the slides and videos, if you have some, pop some popcorn, and have fun.
Next year, one of the things your father would love is a surprise visit by a mariachi band.  That is something we love to do, c
me to your party to serenade the celebrant.
?No creen ustedes que nuestros padres merecen serenata?
Nuestros padres nos den carino, consejos apoyo.
Exprese su amor y gratitud con una serenata a su padre este dia de los padres (el dia 15 de junio) Serenata 6-8 canciones solo cuesta $235.‏