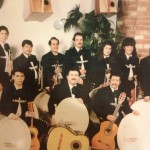 Yes, Mariachi is often the sound of gaiety, laughter, and dancing.  But for those of the Mexican culture, or for those who are drawn to the Mexican culture, the Mariachi band is a familiar and proper way to say "good-bye" to your loved one. Fortunately, there is Mariachi Alegre de Tucson*, led by George Bejarano to help you with your funeral, wake, or graveside services.
  Mariachi is a much expected and valuable addition to many Mexican cultural rites of passage.  The funeral is no different.  Trained in the services surrounding the death of a family member, the band is extremely sensitive to the needs and desires of its clients. The bereaved family can be certain that their wishes will be followed to a "t", and that the addition of the mariachi music will be tasteful, respectful, and appropriate.
With sincerity and understanding, the musician's leader will meet with the family to decide on song choices, on how the band will be integrated into the service, and to be of service themselves, in any way necessary. The Mariachi Alegre de Tucson is well-acquainted with playing for funeral services.  In the 40 years they have been together they have played for scores of funeral services.  They know the Mexican traditions, the Mexican culture, in general, and they know how to compassionately and sympathetically do their part to make their inclusion one that is meaningful.
There is a relatively standard set of songs that are played at funerals, in that way the set is quite similar to the music played for a mass.  Normally, songs that had a special or meaningful place in the deceased's life are included.  Also included are songs that celebrate the life of the departed one, while still having the tone of the inevitable feelings of loss that are, undoubtedly in the hearts and minds of the family. Some standard songs from which the family can choose are: Amor Eterno, Un Dia a La Vez, Despedida con Mariachi, Te Vas Angel Mio, Cruz de Madera, Nadie Es Eterno, Adios a La Vida, La Barca de Oro, and Las Golondrinas.
We certainly want our clients to be aware of the pricing for our services, but we also want them to know that Mariachi Alegre de Tucson considers it a privilege to assist the family in the respectful farewell to their beloved.  We want to be a part of the service without distracting in any way.
Our pricing is as follows:
Masses and Burials in the Tucson Metropolitan Area – $450 for 2 hours
Masses and Burials Out of Town – $650 for 2 hours (minimum – 2 hours)
Thank you for considering us. We can be reached at 520-981-3459
* Mariachi Alegre de Tucson is also available to play at your upcoming weddings, birthday celebrations, family reunions, quinceneras, and serenatas**.
**Serenatas include 6 – 8 songs and the price is $235 if in the city of Tucson.
To be absolutely certain of booking us on the date you desire, be sure to call as soon as possible so that we can set aside the date and time of your event!