Picture a Mariachi band in your head. Close your eyes and let your brain recreate the scene where you first saw one perform. It was a joyous event with friends and family, laughing and having a great time, I bet. This is what we strive for at Mariachi Alegre de Tucson. Our bands are guaranteed to satisfy every musical need for your events.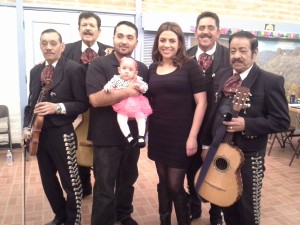 A Mexican tradition since the 19th century, Mariachi groups represent the celebration of life, change, and masculinity. The themes of their music range from history, love, and even death, meaning there is no event a Mariachi band cannot be asked to perform. Weddings and parties are obviously a cause for celebration, but that does not mean the end of the wonderful life of a loved one should not receive the same treatment. This style of music represents the pivotal points in life and moments of major change, so let the parties begin!
In many cultures, death of a loved one becomes solemn and somber. Chances are, our loved ones would rather be remembered beautifully than be memorialized through the sadness of a traditional funeral. The celebration of life is just as important—if not more so—than the acknowledgment of their passing. Too many of us focus on churches and dressing in black when thinking about death when we should be keeping those who have passed in our hearts and memories, wishing them luck in a better place.
Mariachi music is a great way to bring and keep people together. In Mexican culture, different generations can usually bond over the traditional music of their heritage, which explains how it has lasted throughout centuries. Furthermore, as stated on our website "the music and spirit of the deceased will continue," so hiring a Mariachi band makes complete sense, to properly honor our friends and family who grew up with the wonderful traditional music.
Upon hiring Mariachi Alegre De Tucson for any event, including a funeral, you will be paying for a professional band that has been playing for 40 years on behalf of various occasions. We perform at wakes, funerals, and burials, as well as the more commonly known reunions, birthdays, weddings, or any other event you can think of. We will treat you and your loved ones (no matter the occasion) with respect, honor, and dignity, and we will be more than happy to make your events memorable and special year round.
Similarly, if you want to honor someone, alive or passed, we offer great prices on our serenatas among our other services.
Pricing, for a 2-hour service package deal:
In town: $450
Out of town: $650 (must be at least 2 hours)
Serenatas:
$235 for 6-8 songs.
Also available for holidays and corporate functions.
You Can Have Us Serenade Your Loved One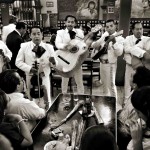 Seranatas may be one of the most romantic ideas you have ever heard. If you are a girl, you will probably agree that having a group of handsome men singing love songs to you and you alone, is just about as good as it gets. In the old days a seranata, which is just the Spanish word for serenade, the tradition went like this. A young man who was "courting" a young lady would gather up some musicians and singers, and take them to his girlfriend's house on her birthday.
The catch was that all this took place at 2 or 3 o'clock in the morning.  So, while the girl was sleeping, the boy and his accompanists would get as close to her window as they could, and they would sing a love song to her and dedicate it to the girl with all his love.  Are you swooning yet?
Sometimes the song went like this:
"Disperta dulce amor de mi vida.
Disperta sit e encuentras dormida..."
or,
"Wake up, sweet love of my life. Wake up if you find yourself asleep".
Then, continuing along with the tradition, the girl would come to her window and throw a kiss to her beloved. In later times, she would thank him the next day.
Another good reason for a seranata was when a boy was too shy to tell a girl that he liked her. So, after a couple of glasses of wine, he would get his musical companions to go with him to tell the girl of his, as yet, unspoken love. The next day, he would eagerly await her response, negative or positive.
Also, at times, the seranata would be a last-ditch effort to restore the love of a girlfriend after a fight. The songs the scorned lover would choose were songs that asked for her forgiveness and a return to their status quo. At other times, the guy would ask the musicians to sing songs along the lines of "I really don't care if you like me or not anymore". The opposite of romantic, no?
Another good reason for a seranata was when a boy liked a girl, but the girl's parents did not like the boy. In this case, seranatas could be set up to take place on a regular schedule for weeks. This was to get the girl's parents to see that he would persist until they gave him their blessing to "date" their daughter.
Another twist was the seranata that was trying to persuade the girl to dump her current boyfriend and start dating the guy who was sponsoring the seranata.  Hmmm… Doesn't seem quite kosher, does it?
Whatever the reason you would like to have a seranata for your loved one, Mariachi Alegre de Tucson is the band to employ.  They can do seranatas that will accomplish any of the goals discussed.  They have songs that will break the heart, melt the heart, and change the heart, of any damsel within hearing distance of the tunes.
♥ Serenatas include 6–8 songs and the price is $235 if in the city of Tucson.
For more questions, feel free to contact us at (520) 981-3459.
Also, check out our video library to get a feeling for how we perform and if we are the right fit for your events.