Are you looking for famous mariachi bands that can help elevate the atmosphere for your next event? Well, you've come to the right place. Mariachi bands have the right skill and melody to serenade you and your guests. Their rhythms are just enough to set everyone in the right mood.
With the numerous Mariachi bands available, you'd want to hire the right band for your event. However, this can feel like searching for a needle in a haystack, especially if you're unsure how to make the right choice.
Well, there's no need to stress yourself, we're here to help. In this article, we'll show you some simple steps to aid you in your quest. With them, you can find famous mariachi bands that can make your event memorable.
Let's get started!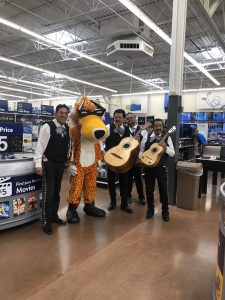 What You Need to Know About Mariachi Bands 
Mariachi bands are lively groups of traditional musicians from Mexico. They usually wear cool outfits with fancy suits and big hats.
Their music is full of energy, passion, and lively rhythms that make you slip into your dancing shoes. Famous Mariachi bands use trumpets, violins, guitars, and vihuelas to create melodies that are pleasing to the soul. 
They also play diverse songs like rancheras, boleros, and other regional styles. These songs have made them famous in events and projected the Mexican culture worldwide. 
Tips for Choosing the Perfect Mariachi Band for Your Event
Famous Mariachi bands have the skills to create a celebration that'll have everyone talking for years to come. However, your goal is to hire the right band that will help you turn your event into a lively fiesta. Here are some tips to guide you: 
1. Define your event's needs
Before you start your search for famous Mariachi bands, take a moment to assess the specifics of your event. Here are some questions you might want to consider before making a choice:
How large is your guest list? 

What's the size of your venue?

What's the theme and aura you want to project in your event?

What kind of songs do you want the band to perform? 
Answering these questions will help you find a Mariachi band that aligns best with your event's vibe.
2. Do some research on the famous Mariachi bands
Now that you know what you want in your event, it's time to do some research on the famous Mariachi bands. You might want to consider looking for bands with a solid reputation and versatile song choices. 
It's also important to check for positive reviews from their previous customers. You can use online platforms, social media, advice from friends, or even event planners to discover some great options. 
3. Check for availability
Availability is vital when reaching out to famous Mariachi bands. No matter how good a band may be, they may not be able to perform at your event if they're already booked.
So, you might want to consider booking a Mariachi band on time once you're satisfied with their services. This involves signing all the necessary documents and paying a deposit to secure their services for your event.
4. Know your budget 
Here's the truth: hiring famous Mariachi bands might come with a higher cost. Also, some special services they provide might come with an extra charge. However, the amazing experience they bring is worth every cent. 
So, when reaching out to them, make sure you have a chat about how much you're willing to spend. This way, you can find a balance between your budget and what they charge.
5. Communicate your preferences
Once you've picked some famous Mariachi bands you're interested in, it's time for a good talk. This is vital as it determines what services they'd provide for your event. 
Tell them exactly what genre of music you want them to play at your event. Also, if you have some special things you'd like them to do, it's best to let them know on time. 
Here's one more thing: You'll need to describe the vibe or mood you want your event to have. This way, everyone knows what's expected, and you'll all be on the same page. 
6. Review contracts and agreements
This is an important factor to consider before finalizing your decision on the right Mariachi band for your event. The next step after communicating your preferences is to review the contracts and agreements they provide. 
It's vital to ask about their performance duration and payment schedule. You might also want to consider any additional services they offer, like transportation or setup fees. Make sure you understand all the terms and conditions before you sign anything.
If something isn't clear, don't hesitate to ask the Mariachi band for clarification. This will help you have a clear understanding of what you're getting for your money.
7. Coordinate logistics
As your event approaches, stay in touch with the Mariachi band to make sure they have all the details they need. You'll want to confirm the time and location of the performance and any other special instructions they should know.
It can also be a good time to discuss any special requests you may have. For instance, telling them when a specific song should be played at the event. Or where you want them to stay before their performance. 
By keeping in touch with the Mariachi band, you can help ensure that everything runs smoothly on the day of your event.
8. Enjoy the performance
Now, you've done your part and the big day is finally here. All you need to do is sit back, relax, and let the Mariachi band do their thing! Famous Mariachi bands like Mariachi Alegre are known for their specialty in using music to bring joy to any event. 
They'll be sure to get your guests smiling with their lively music and upbeat attitude. So, just enjoy the performance and let the band do what they do best.
We Can Help!
Hiring a famous Mariachi band for your special event doesn't have to be a rollercoaster-like process. If you follow these simple steps, you can ensure that the process is smooth and satisfying. 
Here in Tucson Arizona, Mariachi Alegre is a local group that is known for their music expertise in events. Whether it's for weddings, funerals, or any special event, we have the skill and perfect melodies to set the mood for your occasion. Let's help you make your event unforgettable with the magic of Mariachi music! Reach out to us.