Mariachi music spices up events. Mariachi bands with their characteristic charro costume. Our traditional tightly fitted woolen pants, intricately embroidered waist-length jackets and wide sombrero hats style up a party.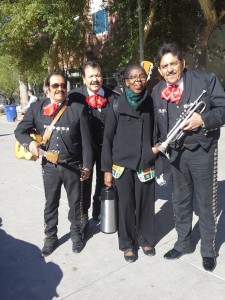 If you want your guests to laugh, sing and feel real essence, life and the true emotional climate of your event, mariachi music supplied by Mariachi Alegre de Tucson is what you need. If you listen to our music, it is almost impossible not to be emotional, happy, satisfied, or in tears.
Mariachi Band For Weddings
"Mariachi Alegre was very punctual. They mingled and played all my guests requests. They worked well with my wedding planner at skyline club Tucson. She coordinated all the music and events Mariachi George was very flexible in working with my planner. I would love to hire them again."  – Mr. and Mrs. Huerta 
As you can see, our reputation precedes us. Mr. and Mrs. Huerta along with their guests were very satisfied with our performance on their wedding. Not only did we deliver an outstanding performance, we worked very cordially with their wedding planner. Evidently, we work well in a team.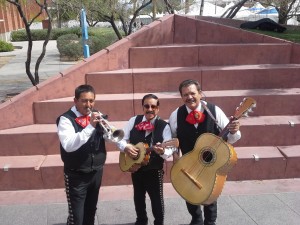 We have a collection of music that will cause the atmosphere of your wedding. Your wedding will be one of celebration, cheerfulness, and gladness. The sweet vibrations of our string instruments and the harmonious rhythms of our brass and woodwind instruments all blend together to create melodious mariachi music. This beautiful sound will send everyone to the dance floor to join you in celebrating your union.
Mariachi Band for Quinceañera Celebrations
At the age of 15, a girl celebrates a Quince. It is similar to a birthday celebration but deeper and more special than a birthday celebration. Celebrating birthdays is something we do every year. But quinceañera is once in a girls life. So, you see it has to be very different from a birthday party.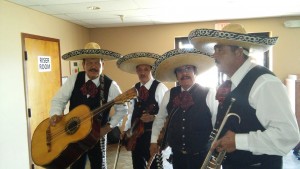 If you have a daughter who's about to turn fifteen, setting up this celebration can mean a lot to her. It's a day unlike any other when you show her how much you're proud of her progress, growth, and accomplishments. Invite Mariachi Alegre de Tucson to make her day even more memorable.
Mariachi Band for Masses and Funerals and Wakes
At Mariachi Alegre de Tucson, we understand your feelings and empathize and sympathize with you and your family. We understand that losing a loved one can be very tough on the family. It is almost impossible to fill the void it creates.  
Mariachi Alegre is attentive to your needs. We will work with you by offering:
Affordable rates

Excellent customer service

Follow-ups with emphasis on detail
Now, we are the best band to play songs which not only express your feelings but provide comfort. Thi is because we are well versed in song selections that pertain to masses for funerals and wake.
Mariachi Alegre members have played all over the United States. Including some big festivals like the Milwaukee Summerfest, Indianapolis Festival and internationally in the Scotland Edinburgh Music Festival.
We can travel within the United States with ease. And can travel outside of US with advance notice. We are very professional and punctual. Call us today at 520-981-3459 and make your early bookings.