The New Year in Mexico is full of interesting rituals and traditions, from praying the rosary, attending mass, to making wish lists, there's a way for everyone to celebrate the New Year!
Ritualistic cleaning: To start the year off right and remove bad vibes, attracting great things, families in Mexico will clean their house thoroughly.
Wish list: This is similar to the concept of New Year's Resolutions. This end-of-the-year ritual involves writing down goals the writer wishes to achieve.
Clothing: Some people will wear white on this night to keep sickness at bay or bring good health. Others will wear new clothing purchased or made special for that evening (and those garments have never been worn before this night). Often, people will wear red and yellow undergarments underneath winter garb. Red for love and passion, yellow for happiness and wealth.
Lights: In the evening, it is tradition to turn on each of the lights in the home to bring prosperity and success throughout the year.
Table and food: The best tablecloth and dishes are used on this day and candles with floral arrangements are placed to attract luck and prosperity. A large dinner is served with sweet, spicy, sour, and strong-flavored foods.
At/After Midnight: When the clock strikes midnight, people loudly ring a bell to symbolize joy and happiness. Everyone then eats 12 grapes (one for each month of the upcoming year) and friends and family exchange hugs and kisses. A toast is then made with sparkling wine because the bubbles represent year-long happiness.
Some more individual rituals, based on the desires of the participants, are also observed, including:
Throwing a glass of water: This is done towards the street, symbolically throwing away various upsetting feelings—like tears.
For Economic prosperity: Participants may place a coin in their shoe, a ticket in their pocket, or eat a handful of lentils if they seek money or prosperity.
Sweeping: Sweeping a brook towards the door (facing the street) is done to remove bad vibes and negativity from the home.
Love: For those seeking romance with a specific person, a red ribbon is tied around the picture of the potential partner and the picture is placed under the pillow during sleep.
Travel: If someone wants to travel more in the upcoming year, take some suitcases and walk around the block—longer walk will lead to a longer trip in the future.
Marriage: To promote the chance of marriage, sit and stand at each chime of the clock at mignight.
Candles: At midnight, light three candles (red, green, and yellow) in a triangle configuration with nine pieces of each: rice, lentils, and gold coils. This promotes prosperity, love, and more for the family.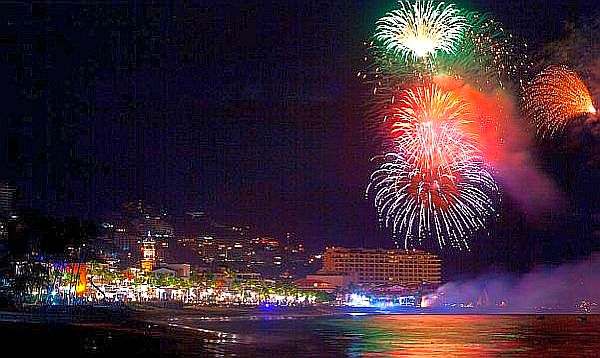 No matter what you plan on doing this New Year's Eve and Night, consider hiring a Mariachi band! There may still be time to reserve our services for when the clock strikes midnight! Bring in the year with great music, friends, and family and keep the positivity going throughout the New Year! At Mariachi Alegre de Tucson we'd like to thank you for all of your support, kindness, and business this year and hope to continue our fantastic performances and services throughout 2015.