A Quinceañera is a girl's coming-of-age ceremony deeply rooted in Mexican culture, where the girl renews her baptimal vows. A Quinceañera mass is not a Catholic sacrament, although it involves presenting the girl before God, and her promise to honor herself and her religion.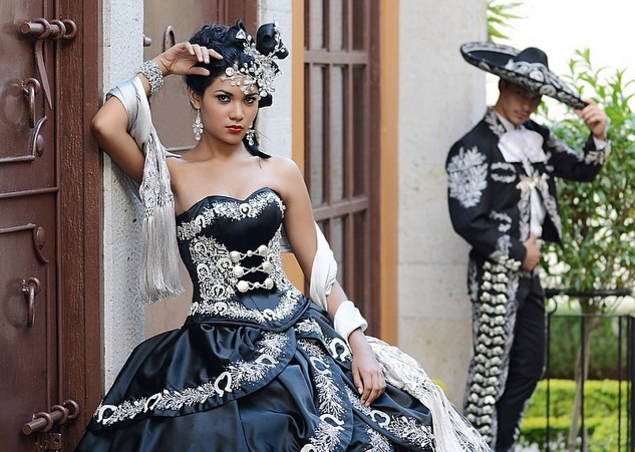 A Quince is normally held around her 15th birthday. It is the Mexican version of the American "Sweet Sixteen" party. However, as opposed to the "sweet sixteen" party a Quinceanera tends to be a lot more traditional and more deep rooted into the Mexican culture. It basically represents the specific moment when the family introduces the teenage girl to the world. It somehow resembles a rite of passage, as the teenage girl is now introduced as a woman, a person who has grown up and evolved from the status of "teenager" to the status of "adult".
Planning a Perfect Quinceañera
So if you are planning a Quinceanera for your daughter, niece or for your granddaughter, you should also consider booking a mariachi band. What a better way to celebrate her debut in society, other than with great music and a happy mood. And we all know just how wonderful Mexican folk music can be, especially in this kind of joyous occasions.
You have the opportunity to turn a regular Quinceanera in a celebration that nobody will forget anytime soon, especially the teenage girl who has now been introduced as a woman. We understand that this kind of a party can be quite expensive, but you should know that there are certain ways to even help you save some money. There is no need for you to break the bank, when there are countless things you could do that cost nothing or close to nothing.
We strongly suggest that you go online and see what the internet has to say about Quinceanera ideas. You will be surprised with how creative people can get. As for the music, it would honestly be a shame to let such an occasion go to waste without booking a mariachi band. And when it comes to the best mariachi band in Tucson, Arizona, you know that Mariachi Alegre de Tucson is the right mariachi group for you!
We perfectly understand just how important of an event is a Quinceanera. That is exactly why our musicians will do everything in their power to maintain a lively mood through their upbeat music. We can guarantee that even the guests who don't come from a Mexican background will have a fantastic time! We all know that Mexican folk music is not necessarily meant for Hispanic people.
The bottom line is that every teenage girl wants a fabulous Quinceanera and the best way to ensure that she will get an amazing party is if you book us. Just make sure to give us a call ahead of time. Spring is quite a busy period for us, especially this coming march, since we also have to attend some Easter services. However, if you call us right now we will make sure to make time for your special day! You can count on us to be there and to turn the Quinceanera into a true Mexican fiesta!