There is no doubt that there are countless wedding traditions all over the world and each one of them has a special meaning and even serves a certain purpose. Although most of these wedding traditions have lost some of their significance, they still remain an important part of a lot of weddings nowadays. Although most people believe them to be outdated, there are still couples who enjoy them and who include them in their special day.
One of these traditions is to have the bride wear something old, something new, something borrowed and something blue on her wedding day. There is a hidden meaning behind all of these items and most brides actually enjoy looking for things that could match the description. This is by far one of the most harmless wedding traditions, because nobody has to go through any trouble in order to accomplish it.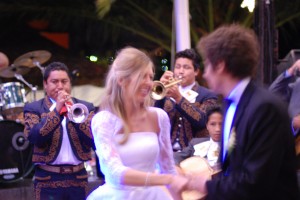 One other seemingly harmless tradition is for the groom to step on the bride's foot during the wedding ceremony. This really is an old fashioned and quite outdated tradition, because it is said that it ensures a "proper" relationship between the two, meaning the bride will become a subjected wife. However, this doesn't mean that the bride couldn't do the same thing, so that she will have a subjected husband.
Of course, there are plenty of other amazing wedding traditions from throwing the bouquet to throwing a bachelor and a bachelorette party. In any case, no matter if you choose to stick to these wedding traditions or not, one thing still remains clear, and that is the fact that there is a lot of other much more important things when it comes to a successful wedding. For instance, people might not remember if you threw the bouquet or not, but they will surely remember if they got food poisoning at your wedding. One other thing that people tend to remember is how much they danced and how good the music was.
This is exactly why you should waste no more time and give Mariachi Alegre de Tucson Arizona a call. We are by far the most experienced and professional mariachi group in the area and we guarantee that we can turn any wedding into an amazing celebration. With an incredibly vast repertoire of over 2000 songs, you can rest assured that your guests will have a great time and that the dance floor will be full at all times.
There is nothing worse than a wedding with bad music. This is exactly why our band is willing to spare you of any embarrassment and turn your union into the best party of the century. We can perfectly combine upbeat and slow songs, so that everyone can dance to the music they like. All you have to do is give us a call today and book our band for your wedding!