This Cinco de Mayo falls on a Thursday. It's not quite ideal, but you still have time to call the office and let your boss know that you will be needing some days off, because you will be spending a long weekend with your friends and family. We all know that Cinco de Mayo is a great Mexican tradition and it would be a shame for you to miss all the fun because you had to work that day. There are plenty of things to do on this day and there are various ways in which you can celebrate, but we can also agree that the best way to properly celebrate this Mexican Holiday would be by throwing an amazing fiesta.
You can even tell your family and friends to get off work and help you out with planning a great party. Everyone should be there, because Mexican celebrations are always about family and loved ones and you should definitely all be together this 5th of May.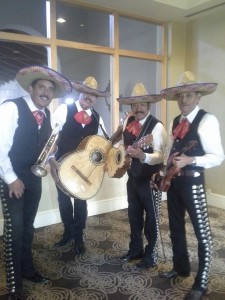 Last time we have already discussed the meaning of Cinco d Mayo and we have told you guys that it is a celebration of Mexico's defeat over France in 1862. However, these past few years Cinco de Mayo has lost its historical meaning and has turned into a different type of celebration. In fact, most people do not even seem to be aware of the historical background of this Mexican holiday. Instead, Cinco de Mayo has turned into a holiday that celebrates Mexican culture and traditions, which is, in fact, a great thing because it is highly important to pass on various traditions and customs to the young generations and to people who are interested in the Mexican culture in general.
Now, getting back to your celebration, if you have not yet called us and booked our Mariachi band to play at your party then you need to hurry up. The whole Mexican community in Tucson is celebrating on May the 5th and it would be a shame if you would be the only ones left without a mariachi band to liven up the mood with great Mexican folk music.
Mariachi Alegre de Tucson Arizona is the best mariachi group in the area and it would be the best suited if our professional musicians could play at your Cinco de Mayo fiesta. You should also know that our prices are absolutely amazing. If you live in the Tucson area our services come at a staggeringly low $225 per hour. We can even play outside of Tucson for $700 per two hours. We guarantee that you will not be able to find a more affordable Mariachi group last minute. This means that you should put a speed on things and give us a call as soon as possible.