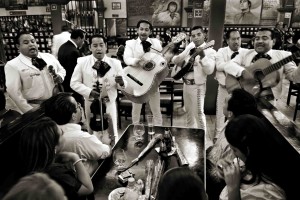 Father's Day is coming up—June 21st—so let's get to planning for Papa! Dad's like to feel special, too! So let's remind Dads how much we love them and throw them a little party like we did for Mom! Today we'll talk about a few ways to make Dad feel special with help from Mariachi Alegre de Tucson!
Small Private Party: Throw a party at his favorite restaurant honoring him. This is great for large households with many children and very close friends. Buy him a great meal and let our performers serenade him while he has the chance to dance with each of his children and the mother of his children.
Large Venus: Gather the whole family and honor each and every father there! Your father, his father, your cousin's fathers, anyone who has children will be honored this father's day with a large party just for them! Loud music, lots of food, and let him wear that stupid shirt he loves!
Neighborhood: Get everyone together and have a Father's Day block party! Set up a Mariachi in one of the yards and throw out a dance floor and have a grand time! Invite everyone you know or keep it neighbors only. Great for communities with lots of families. Bring out some games and set up a buffet!
Fathers are just as important as mothers—without them, none of us would be here. So, let's get to planning and make a big deal out of Father's Day this year and take him by surprise! Everyone fusses over mothers so it's Dad's time to shine this year.
In Mexico, Father's Day features cards, artwork, and other presents being presented to fathers and father role models in the family. Some schools offer special events like pot-luck meals and displays of children's artwork for families to enjoy.
Though Father's Day originates in the US, Mexico has met it with the same excitement and celebration of most other holidays. So regardless of where your family hails from, consider hiring a Mariachi to make that day a little more special. Remind him why you all live in Phoenix—beautiful geography, fantastic mix of culture, and the love of his family keep him grounded through thick and thin. So show a little appreciation this June and let's show our fathers just how much we care about them. Any dad would be lucky to be serenaded at a family get together. No matter what you do, tell your father how much you love and appreciate him.