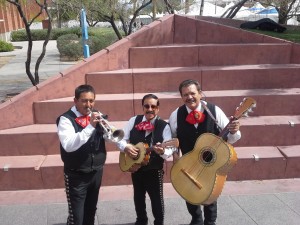 Don't forget about the beautiful Our Lady of Guadalupe Day! With Thanksgiving coming this week and Christmas taking over, it's easy to let this wonderful day slip past us. We're here to help you remember as well as celebrate this important day. If you can't make it to the basilica of Guadalupe in Mexico City you can still celebrate with vigor, respect, and fun. Participating in a mass service in remembrance and memory of this saint is usually the first step in celebration, often followed by fiestas! Some people will start setting off fire crackers or other fireworks as a sign of celebration, some simply attend mass and present the Virgin altar with offerings. There is no wrong way to spend this day if you're remembering her greatness and the importance of this holiday to the Mexican people, for she is sometimes called the Mother of all Mexicans, or the symbol of Catholic Mexicans.
Our Lady of Guadalupe is known in other sects of Christianity and Catholicism as the Virgin Mary. This is a woman many people celebrate around Christmas, for she gave birth to Jesus as a virgin. She is part of why we celebrate Christmas, so celebrating her and her contributions to Mexico, Christianity and Catholicism, and our culture is a great way to start the holiday season. December is just full of celebrations, so adding this to our list of reasons to celebrate is a great way to bring together our friends and loved ones.
Let us, Mariachi Alegre de Tucson help you in your celebrations of this Patroness. Let us perform at your December 12th Mass, or the fiesta that follows. Our musical stylings are more than appropriate for any step of your celebrations of Our Lady of Guadalupe. We'd love to help show our love and dedication of our music and culture with you and your loved ones on this sacred day.
Bring our your Virgen de Guadalupe statues, figured, paintings, or whatever else you have to remember her and let's remember what she has done for us all, and what she did for the people of Mexico. Embrace the merging of Catholicism and the native Mexican cultures centuries ago.
While you're planning for this gathering and celebration, don't forget to think about Christmas. It's a month away, so act now before we're all booked up for the best days before Christmas.
Most of us will not be able to make a pilgrimage to the Basilica of Guadalupe or any of the Cathedrals in her honor in South America, you can still have a proper celebration with your local church, friends, and family. Don't let an inability to travel get you down. Bring some of that Mexican authenticity to your home. We'd love to help!