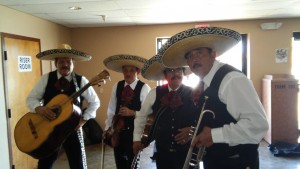 We're getting close to 2 of the most celebrated holidays in the country. Thanksgiving is just a couple of weeks away, and less than a month later will mark Christmas! Before you know it, it'll be 2016 and time to start over with birthdays, holiday celebrations, and any other party you may have planned. Mariachi Alegre de Tucson would like to help make your celebrations this Fall and Winter amazing and memorable.
Thanksgiving: While this is specifically an American holiday, what better way to celebrate the generosity of the native people to the Europeans who shows up? Bring those of a different culture into your home to show them your food, your culture, and your enthusiasm for the history of your ancestors. We're all adding to this beautiful melting pot that is America (especially Arizona, with our huge Hispanic and Native American influences) so why not celebrate Thanksgiving with people from all walks of life? We'd be happy to provide some musical entertainment to any and all of your Thanksgiving celebrations. Why not plan a party for Black Friday or the weekend after Thanksgiving to show that Thanks can continue after that one specific day. Be thankful for what we have, and look forward to spending time with friends and family.
Christmas: With the Christian and Catholic influences found throughout South America, it would be foolish to take Christmas lightly! This is a wonderful time to bring the relatives together and forget any drama from the year, and forgive and forget. Share good cheer, good food, and great music with a Christmas party. The great thing about Christmas is, a lot of people take the entire month of December to celebrate it! Get ahead of the pack and start planning your Christmas party and guarantee the best performers (us, of course) for a taste of Mexico to be added to your party.
For an added bonus and festive-feelings, hire a Mariachi for your Christmas mass. We love helping people celebrate and understand holidays, and hiring Mariachi for the special mass services is a great way to increase attendance. The more people we can bring under one roof to celebrate such a wonderful holiday, the better. Mariachi Alegre de Tucson would love to help you celebrate Christmas with your friends, family, loved ones, and church members, so allow us to show our love and passion for our work and what our music stands for.
Don't forget that in between Thanksgiving and Christmas is the Dia de la Virgen de Guadalupe, on December 12th. This could be the perfect time to introduce your loved ones who are unware of that holiday to it.