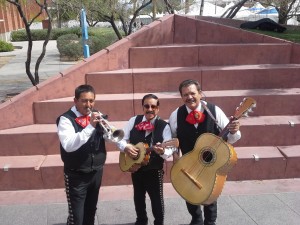 December 12th is a day to celebrate the Virgin of Guadalupe (the Virgin Mary). It is said that she appeared to Juan Diego on December 9, 1531, and she asked for a shrine to be built in her name at Tepeyac Hill (where she appeared to Diego). The bishop didn't believe that Diego was saying, so he required proof before the shrine could be built. Three days later (December 12), the Virgin appeared again and orded Diego to collect roses, to which he then took to the bishop and when he dropped the roses from his tilmátli an image had formed of the Virgin on the inside of the cloak.
These events are told to have assisted in the conversion towards Spanish Catholicism (or at least the introduction and slow merging with the local beliefs and the Spanish influences). Her image is used to show religious faith and patriotism and many important figures have spoken of her or carried her likeness, symbols, and other signs associated with her.
December 12th has been the day of the Virgen de Guadalupe since 1859 and every year people gather at the Basilica of the Virgin of Guadalupe in Mexico City to celebrate her (she is now a patron saint). People gather around the Basilica and light candles and provide offerings to celebrate her. There is one song that is almost always sun in celebration, "Las Mañanitas."
You may be asking "How can I celebrate this holiday without going to Mexico City, but still do it justice?" A lot of people will celebrate with a feast. Some food may include: bunuelos, raspados, tortas, and other traditional dishes. This fiesta may also include music, dancing, and attractions, as well as offerings to the Virgin. In Mexico, the plaza becomes full of food, vendors selling crafts and wares, and a myriad of musical and dance performances once the mass concludes. Most Catholic churches with a high concentration of Mexican attendees will honor her with a special mass and offerings.
Celebrate in style by hiring the best Mariachi group in Arizona (Mariachi Alegre de Tucson) to get everyone up and moving to celebrate this very important day. Don't wait until the last moment to book us, either. This being a huge holiday in this community, most venues, performers, and caterers may be booked for weeks before the celebration. Acting now will get you the best prices and the best choices for food, performers, and locations.
If you don't want to throw a huge party at a large venue, gathering in the home can be another great way to celebrate, bringing friends and family close by to celebrate the beautiful culture and the interesting holiday that is the Day of the Virgin of Guadalupe. Bring us into your homes, offices, and lives to help you celebrate this amazing holiday before we all get caught up in Christmas and the start of 2016.