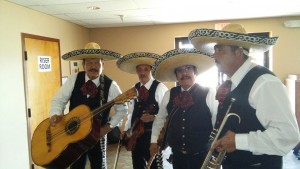 A lot of people associate Dia De Los Muertos with Halloween– and they're not wrong. The two do have similarities– but this special holiday continues for multiple days (like a lot of the big Mexican celebrations) and the celebrations are bigger and better. Not to mention this holiday focuses on more than dressing up sexy or scary and binge eating candy and drinking to excess. This holiday has deep spiritual and family related influences. It's a time to remember those who are no longer with us by celebrating their lives and ours with food, parties, festivals, and amazing decorations. We gather with those we love and cherish and pray for those we have loved, lost, and will one day lose.
Like most Mexican and South American holidays, Dia de Los Muertos has origins that trace back to hundreds of years ago, but have heavy Catholic and Christian influences. Once again showing the merging of multiple cultures and backgrounds into one beautiful celebration of something important.
Despite the modern influences of Christianity and Catholocism, there have been churches who rejected this holiday in the past, relating it to Paganism (hated by many Chruches) but since it has become a national holiday thanks to the Mexican government, its observation and celebration have increased, and more people are learning about it in schools throughout the world.
Bring this beautiful and fascinating holiday to your friends and family. Invite your friends, relatives, neighbors, coworkers, and anyone else you care about to help them recognize just how amazing it can be celebrating life and remembering those who have left this plane of existence by having fun. Start a parade or start the day by going to the cemetery for remembrance and take the memories of those loved ones to the next spot of the day.
If you're having a celebration day for Dia de Los Muertos (which doesn't end until November 2nd, but you can keep celebrating if you want to) and you need some entertainment, give us a call! And remember, it's never too early to start planning for next year. Let Mariachi Alegre de Tucson give you that authentic Mexican music to liven up your festivities. We are remembering the dead, but that doesn't mean your guests should be allowed to mope around or look sad. This is about celebrating life and the journey we took to get where we are and where we're going– and that does include death. To some, death isn't the end, it's just a new beginning.
We would like to offer our services at amazing prices for all of your weddings, funerals, baptisms, birthday parties, Quinceañeras, reunions, retirement parties, and more. Let us take your party to the best fiesta in the state of Arizona!