Easter has passed and so has Mother's Day and so have most graduations. In other words, May is almost over and the wedding season is upon us. Every spring and summer we see ourselves as a part of these magical and romantic wedding traditions and every year it gets more and more spectacular, even though the bride and groom are merely sticking to the traditional wedding and traditional customs.
There is nobody that can get more excited at weddings and at similar occasions than the Mexican people. We all know that, apart from the amazing traditions, Mexican weddings also have this incredibly wonderful mood. Everybody seems to be having fun and everyone seems to be enjoying the romance. Well, there is no secret to how these weddings are planned, but one thing is definitely clear and that is that there can never be a proper Mexican wedding without a mariachi band.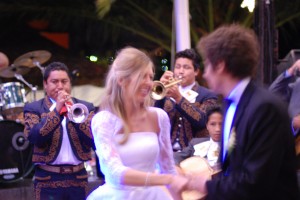 One of the main reasons why Mexican weddings have such an amazing mood throughout the reception and even from the start of the wedding is the fact that every tradition and every custom is accompanied by amazing Mexican folk music. This is by far the best way to celebrate the union of two young souls and this is the most romantic and touching way to celebrate love, in general. Mariachi music has the advantage of being both romantic and upbeat. And when you are dealing with these types of celebrations, you definitely need an experienced mariachi band to be able to properly and perfectly mix the two.
The great news is that Mariachi Alegre de Tucson Arizona is by far the most experienced and professional mariachi bad in Tucson. We have played at countless weddings and we know exactly what songs to play in order to keep every guest on the dance floor. No matter if we are talking about little children or grandparents, we guarantee that everyone will be dancing on the music played by our professional and experienced musicians.


However, you should keep in mind the fact that the wedding season is incredibly busy, especially for our mariachi band. This is exactly why you should plan ahead and book us as soon as possible, because otherwise you might end up without any kind of music on your wedding day. Give us a call today so that you can take advantage of our amazing offers. Our prices start at $ 225 per hour in the city of Tucson and at $ 700 per two hours outside of the city.
We guarantee that these are the most amazing and most affordable rates in the area, so do not hesitate to give us a call right away! You will certainly be satisfied with our services.