One of the hardest things someone can go through in life is the loss of a loved one. On top of that, being in charge with planning a funeral can definitely add a lot of stress and anxiety to the grieving process. We understand just how hard it must be for you, your family and your friends. This is exactly why we think that you should consider booking a mariachi band for the funeral you are organizing.
Like we said before, losing a loved one can be the most nerve – wracking and painful experiences that someone can go through. The funeral can be highly emotional and incredibly stressful at the same time. However, this does not mean that you can't turn it around. You can turn this day from being sad and depressing into a perfect way to celebrate the life and achievements of your loved one who has just passed. A mariachi band can help you do all that and more.
Mariachi Alegre de Tucson Arizona is highly experienced mariachi band that has played at countless funerals. We can help you, your family and your friends to grieve, to mourn and to properly commemorate the life of your loved one. Funerals are a hard time on everyone, but they can also be a great opportunity for you to celebrate and honor the deceased and his life.
Mexicans have had mariachis play at their funerals for centuries. The main reason for this is the fact that, although Mexican folk music may be seen as incredibly alert and upbeat, there are also countless songs that speak of suffering, loss and even death. These are all emotional songs that can surely help you and your guests mourn and properly commemorate the life of your loved ones who have passed.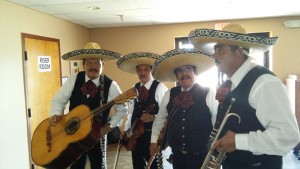 Mexicans even have a particular occasion for celebrating the dead, which is called Dia de los Muertos. You can take their example and turn this sad occasion into a moment of celebration, regardless of your ethnicity or religious beliefs.
Mariachi Alegre de Tucson Arizona is the most experienced and professional mariachi group in the area. We pride ourselves in being able to perfectly play over 1000 songs. We have attended countless funerals and we have strong connections with most churches in the area. Our funeral services include wake, mass, burial service and even post service wakes and gatherings.
We understand that you want to keep alive the memory of your loved one and the best way to do so is by booking our live mariachi band. This way you will not only be preserving their memory intact, but also carry on a tradition that has been going on for generations. Give us a call today so that we can help you through this hard time in your life.