February is almost over, which means that spring is almost upon us. As it turns out, spring is the most popular season for baptisms. At least in the Christian religion, March, April and May seem to be the most crowded months when it comes to baptisms. And to be honest, spring really is the best season choice. It almost has a metaphorical meaning – the rebirth of nature and the rebirth of children as Christians.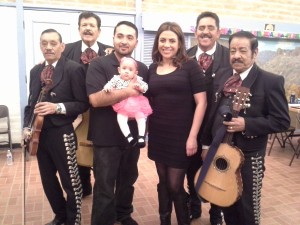 Baptisms can take place either in a church, or in the homes of the parents or other relatives. The service is usually short and it requires the participation of the parents, the child, of course, and the godparents. One other thing that most people don't know is the fact that this service can be performed regardless of the age of the baptized person. It can be a child, but it might as well be an adult.
If you would like this service to be memorable not only for the parents and grandparents, then you should seriously consider booking a mariachi band. And if you are interested in booking a reliable and experienced mariachi band, then you should definitely not look any further. Mariachi Alegre de Tucson, Arizona is the most experienced and professional mariachi band in the area. We can surely turn any baptism service into an occasion that everybody remembers.
Our Mariachi band has a great respect for every Mass service and has always had a great relationship with all the churches in Phoenix and the surrounding areas. We can also guarantee that we can improve any Mass service with our live performance.
We have had the pleasure of playing at countless other baptisms, weddings, parties and even funerals and we have over 1000 songs in our repertoire. These are the main reasons why Mariachi Alegre de Tucson, Arizona would be the perfect choice for you. We have taken part in countless similar services and we have always made sure to set a relaxing and fun mood. After all, a baptism is a great reason of celebration.
More than that, if you plan on having an after sermon party, then our mariachi band can surely liven up the mood with some amazing Mexican folk music. Live Mexican Folk music will always turn any gathering into a successful party. You too could turn an ordinary baptism into a memorable experience not only for the ones directly involved in the service, like the parents and godparents, but for everyone invited as well.
So if you are in need of a great mariachi band, then you should definitely not hesitate and give us a call. We look forward to turn this baptism into an unforgettable experience. However, you should keep in mind to book Mariachi Alegre de Tucson, Arizona in advance, so that you can make sure that we don't already have other engagements.