Planning a funeral can always be a nerve wracking task. Apart from having to deal with the grief of losing a loved one, you are also faced with a series of decisions that you never asked for. One of these decisions which, in our opinion, should be the easiest one to make is whether or not to book a band of mariachi to honor your loved one's passing. You should definitely consider hiring a mariachi band so your loved ones can properly celebrate the life of the deceased.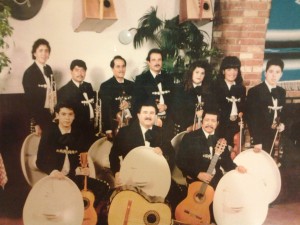 Mexicans always have a way of turning to music, regardless of the occasion. This is exactly why you and your family and friends should turn this incredibly sad day around and enjoy some beautifully played Mexican folk music that will surely honor your loved one's passing. Most English speaking persons would argue that a mariachi band isn't quite appropriate for such an occasion as a funeral. However, what they are not aware of is the fact that even if mariachi music seems to be incredibly upbeat, its lyrics are always amazingly moving. More than that, the passion with which most mariachi bands play their songs is equally emotional.
Mariachi Alegre de Tucson, Arizona is one of the most experienced and professional mariachi bands in the area. You can book us to come and play at the funeral mass, at the burial site, or even at both. Our highly experienced musicians will surely be able to evoke some pretty strong emotions, not to mention that your loved one's passing will be properly honored.
One of the things that Mexicans are known for is the unique way in which they are able to celebrate every occasion. This means that by hiring a skilled and experienced mariachi band, you will be able to immortalize this day and even turn it from a sad, teary occasion into a memorable experience upon which your family will look back with joy and even appreciation.
The mass and burial can even be followed by a casual family gathering in a private residence. This would be the perfect occasion to let the Mexican folk music flow. You can have a bite to eat and think or talk about the person who has passed, while listening to some of the most emotional and heartwarming songs in the world. You can share your favorite memories while also enjoying the perfect type of music for this particular occasion.
The bottom line is that the passing of a loved one is no doubt one of the hardest things that anyone can go through. This is exactly why you should not hesitate to call us, so that we can make mourning easier for you and your family. We have attended countless funerals before, so we know exactly what you are going through. This means that we will definitely do our best to properly commemorate the deceased.