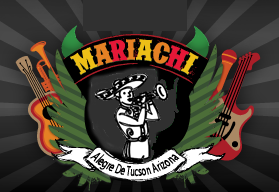 We've talked a few times here about hiring a Mariachi group for a funeral. We understand how hard it is to plan a funeral, whether a loved one just died or you're making plans so your loved ones don't have to when you pass. We want to encourage you to hire us for our funeral services so we can help you mourn, grieve, and remind you and your guests that we need to celebrate the achievements and lives of those who are no longer with us as well as celebrate the life we are all given and honor ourselves as much as our loved ones.
Take a page from the books of Mexicans who celebrate Dia de los Muertos and celebrate those who have passed, for they are in a better place and we are better people for having known them. Here in Arizona, Mariachi bands seem to be a dime a dozen, but Mariachi Alegre de Tucson is the best around and we'd be honored to perform at such an important event as a funeral.
Most people connect Mariachi with people of Hispanic descent, but that doesn't mean that only someone from Mexico can appreciate a good Mariachi band! Growing up in such a diverse area as Tucson (Native American, Central American, and European-Caucasian influence abundant) means anyone can adore Mariachi music! So whether you're Hispanic, Caucasian, Afric
an-American, or really any race or even religion, you can respect, appreciate, and love this type of music. With that said, Mariachi music is perfect for any funeral. Embrace a culture that isn't necessarily your own and support your community by hiring our professional mariachi performers to honor your loved one!
Our funeral services can include wake, mass and burial services as well as post-service gatherings and wakes. Our music will move your hearts and lead you to tears (in a good way, of course) and if needed, our performances can lift you up out of the funk to fond memories of parents, grandparents, friends, or other loved ones to make their passing easier on you and your guests. Let our music guide you to acceptance through culture and moving pieces.
Call today about our funeral services and we can work out times, dates, song sets, and more. We can work with most churches for our services with mass and burials and we may be able to make recommendations for caterers, churches, and more.
Never underestimate the power of a great group of musicians at a funeral, keep the memory of your loved ones alive by honoring them with Arizona's best Mariachi band at your service and help us keep this tradition alive so the next generation can learn to love and respect a tradition that helps keep Arizona interesting.