Labor Day is celebrated on September 7th this year, and it's celebrated in honor of the American labor movement, showing how far we've come with labor laws, child labor laws, unions, and other labor-related movements. Enjoy this day with your friends and family if you're lucky enough to have the day off! Some places of business will be closed entirely—if not closed early—to relax a little with a party, big or small, with those closest to you. Let everyone you care about unwind a little after months of hard work, and give them a Monday they can remember.
Sure, this is an American-based holiday, and it's not recognizing any one culture, person, or achievement, but it's a great time to have a shindig. Invite your friends, family, neighbors, and/or coworkers! Cook some food, have a pot luck dinner, pull out the grill, or hop in the pool!
Worried about entertainment for your Labor Day fiesta? Worry no more! Hire a mariachi from the talented groups at Mariachi Alegre de Tucson! We offer the most competitive prices alongside the best performers. All of our performers love their work, so performing for groups on or around Labor Day isn't a chore or annoying. We love making people happy and we have the best jobs in the world! Our music brings smiles to the faces of listeners young, old, and everyone else in between!
Make it a Mexican or South American theme by hiring caterers from your favorite Mexican restaurant of have everyone pitch in and bring Mexican dishes with a classic sense of community found all throughout Mexico, South America, and Latin communities throughout the great state of Arizona (as well as Texas, California, New Mexico, and other parts of the US). So let's unite friends and family of all backgrounds, especially those we work closely with from different groups and heritages, and make this a memorable and meaningful Labor Day! Mariachi Alegre de Tucson would love to help you in bringing others close to each other through food, music, dancing, laughing, and loving.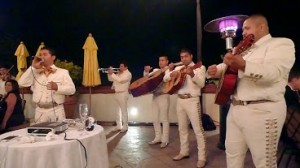 Decrease the money spent on entertainment by hiring a Mariahci band who won't need to use expensive audio equipment like amplifiers and microphones! Some venues have great acoustic perks and the types of instruments and singers we use keeps the amount of equipment to a minimal. Even larger venues or outdoor locations will need limited equipment! This saves you time, money, space, and keeps it a much more intimate celebration! Spend a little more money and get a real band instead of paying your nephew $20 to hook up his smart phone or set up a playlist on a computer, and don't pay a "professional DJ" to make a playlist and press play and walk away from the DJ booth to eat your food. Hire a group who works in much the same way as the original Mariachi back in Mexico from generations past!