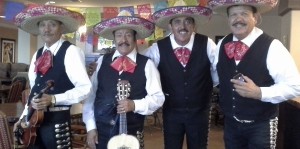 As summer ends, you may want to consider a class reunion during "Homecoming" time! As far as family reunions go, some may opt for a late summer gathering. Today we'll talk about ways you can make your reunion of any kind a little more fun, regardless of your background, ancestry, or skills.
True Fiesta Themed! Any reunion can be made fun for everyone by thinking of the classic fiestas! Mariachi, homemade Mexican food, piñatas, Mexican candy, and more! Kids will love hitting a papier-mâché animal with sticks, only for it to explode into candy. No birthday party required!
Mexico and its people thrive on togetherness! Family is very important to most South American families, so what better way to remind your friends and loved ones of the beautiful history and tradition of Mexico than a Mariachi band, some good food, and the company of others?
Affordable, professional, and entertaining music can be easily found via Mariachi Alegre de Tucson. Our performers are at your service at fair prices and every performance is different, and you can request certain themes of clothing, song choices, and in most cases guests can give us song requests on the spot! Our performers have a vast repertoire including many classics, some contemporary pieces, and if you have anything specific in mind (and time allows it) we can learn almost anything for your birthday or gathering.
Bright colors are so fun! A lot of Mexican-styled decorations feature bold colors, basic shapes, intricate designs, and a focus on fun!
Take inspiration from festivals! Set up a costume contest, parade of kids, party games, and maybe bring in a brief recognition of a saint! You can choose to celebrate any number of Catholic saints, including the "Saint of the Day" as found on some websites. You can even remember the Saints of families (Francis of Assisi, Joseph, and Macimillian, for example), or any number of saints regarding family and friends (examples found here).
If you're planning a reunion of any kind, be it of college friends, in honor of a high school or college graduation, or family members, don't forget to call and schedule yourself a Mariachi band and have a party no one will forget! As a reminder, the Class of 2005 may want to consider a 10 year anniversary! Families who don't get together every year may want to consider celebrations every 5 or 10 years, so it's easy numbers to remember! 2015 is the perfect time to start a new tradition! Get back in touch with your friends or family and let's get to party planning! Mariachi Alegre de Tucson would love to be a part of your family for an afternoon, and we will treat you as we would our own family members.