You don't need to be a Latin American to have heard of the quinceanera. Perhaps you may have witnessed it, maybe even had a glimpse of this occasion and thought it a just another birthday celebration. But not true.
True to its Spanish translation for '15 years old', a quinceanera is the celebration held for a girl when she turns 15. Pink is often times the dominant color in a quinceanera celebration. The celebrant is usually seen wearing clothes of pink or pink highlights, well-wishers also wear clothes with pink highlights – pink is the traditional color. You might ask, 'why pink?'. You see, quinceanera heralds another celebration called 'Fiesta Rosa' which means Pink Party. However, over time, quinceanera has evolved and the celebrant is free to wear a dress of any color of her choice.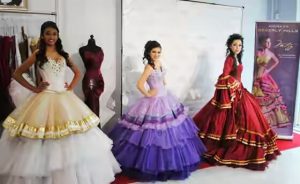 For all involved most especially the 15-year-old celebrant, a quinceanera is more than just her 15th birthday party. Veronica Mena of the Catholic Company says "I feel that we celebrate a Quinceañera as if it were one of the Seven Sacraments. It is a deeply important ceremony. The ritual requires proper etiquette and is beautifully lavish. I remember from my teen days when some of my friends could even choose between a car or a Quinceañera party – not both, because of the expense- and guess what? The girls chose the party! "
From what Mena said, we can pick there vital qualities of a quinceanera celebration. These are what it means to the Hispanic community:
One of the Seven Sacraments
Deeply Important Ceremony (emphasis on 'deeply')
A Ritual
Is a conventional birthday celebration a ritual? Maybe it is for some folks, but then it won't be conventional. Are other birthdays a DEEPLY important ceremony? I don't think so, all birthdays are important and means a lot to the celebrant, but not that deep. Well, I can't say that for everyone. And there are the also the Seven Sacraments which I doubt conventional birthdays are. I don't even know what the Seven Sacraments are but I'm pretty sure it's sacred to the Hispanics. All of which cannot be said for a conventional birthday celebration.
The Quinceañera celebration is an important tradition. A custom sewed deep into the fabrics of the Hispanic culture. For as long as anyone can remember it has been passed down from mothers to daughters, from generations to generations.
Much like a bride is accompanied by her bridesmaids on her wedding day, the quinceanera celebrant is accompanied by her chembelanes. Her chembelanes are all male, a group that comprises her brothers, cousins, and close friends. Amazingly enough, the girl can have her bridesmaids to include her female friends, but this is optional
Parents of the celebrant see the celebration as it signifies that their daughters are no longer little girls. The celebration heralds their daughters into womanhood. The quinceanera celebration is a way the 'introduce their daughters to the society'.
Quinceañera From A Celebrant's Point of View
When I asked Luna Martinez how she felt about her quinceanera celebration, she went into the full talkative mode. All smiles and excitement she said "That was one of the best days of my life, I think it was just the best day ever! I'd looked forward to that day a long time, but when it came, it still felt like a surprise party! That was the one and only time I ever got in a limo, the dress I wore was a gift from my mother and oh it was so beautiful. It was a blue gown, speckled with gold, that went all the way to the floor, and there was this little tiara I wore that made me feel like a queen. The music from the mariachi band, the gifts I got. It was magical. I wanted the day to last forever, I was a wee bit sad to see it go".
For the girl who's clad in a beautiful dress of her choosing, looking like a beautiful Disney princess, picked up in a fancy vehicle, or even better by a horse-drawn buggy, the Quinceañera is like a royal event for her. She is the attention of the day. Everyone in attendance is there to honor and celebrate her passing into womanhood. And why shouldn't it feel that way for her? It only gets to be done once in her entire life and it's done very well. Her parents will spare no expense.